101Investing isn't one of our top rated brokers right now. Who is?
Expert's Viewpoint
Although the online brokerage scene is increasingly crowded these days, there is still plenty of room for innovation. While 101Investing does not necessarily completely break free from the familiar mould that we are used to when it comes to online forex brokers, there is just enough innovation present to keep us interested. By offering access to more than 250 CFDs, including forex, cryptocurrencies, commodities, stocks and indices, 101Investing offers a decent smattering of financial instruments ready for you to trade in an instant. The desktop, WebTrader and mobile trading app all run on the familiar MetaTrader 4 (MT4) trading platform, so there are no great surprises when it comes to the trading experience on offer.
As you will be able to tell from this 101Investing review, while the platform does not necessarily offer you anything that you won't have encountered before with other brokers, what it does offer, it does very well. Perhaps the most exciting features are the various types of accounts on offer, which allow you to customise your trading experience depending on how serious of a trader you are. The Silver account is a solid beginner account offering you decent spreads and plenty of trading options to keep you happy, and the Pro accounts offer a seriously enticing package for professional traders, including a fully personalised service. While the other features on offer are perfectly competent, such as the education and trading resources, in reality, it is these account types that will be the most enticing feature of this platform.
ForexFraud does not currently have a rating and review of the broker on its website. While this might seem like a bad sign initially, we need to remember that 101Investing is a relatively new platform, so it might just be a matter of time before it gets round to rating them. Importantly, however, ForexFraud has not included 101Investing on its list of forex brokers to avoid, which is a positive sign. As 101Investing continues to establish itself in the industry over the coming months, it is one of the new players on the scene that we will definitely be keeping an eye on. With that said, let's continue with our 101Investing review!
Broker Summary
101Investing is one of the newest online brokerages offering new and experienced traders a range of financial instruments to trade and some very attractive trading conditions. It was established in 2020 by the team behind FXBI, meaning that a lot of industry expertise has gone into creating this product. Although many of the features on offer might be familiar to you, it is the various account options that 101Investing offers that help to separate it from the rest of the competition out there. While it is primarily marketing itself to beginner and less experienced traders, it has account options all the way up to professional level accounts – which means that you can gradually advance your skills as you gain more experience. With low minimum deposit limits on the Silver accounts, this broker is ideal for beginner traders. With that said, let's review 101Investing in full.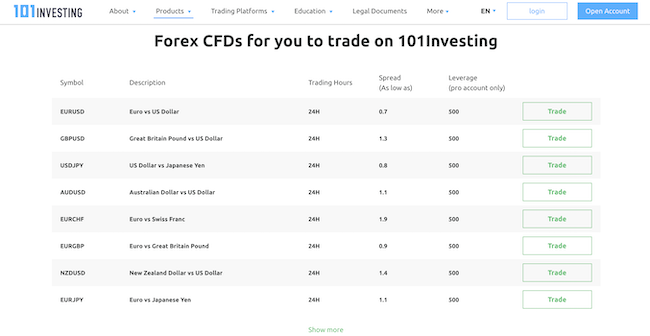 Broker Intro
Although 2020 has been a roller-coaster year for the global economy, with the full effects of the economic impact of the COVID-19 pandemic yet to be felt, as many seasoned traders know, these are the best conditions in which to trade. Where there is volatility in the markets, there are opportunities to turn a profit! With that said, 101Investing has burst onto the already crowded online brokerage scene, hoping to offer traders of all skill levels a new and exciting product to use in these volatile times.
Set up as a subsidiary of the FXBFI, 101Investing has a lot of experience behind it. This is immediately obvious based purely on the quality of the product it offers, and the 101Investing platform comes across as an incredibly slick, well-put-together product. Although it is primarily marketing itself at the beginner crowd, with four account levels on offer (Silver, Gold, Platinum and Pro), there are enough trading options to keep you happy as you progress from a new trader to a seasoned veteran.
In general, the trading conditions on offer are reasonably favourable, with some decent spreads available depending on the currency or instrument. Additionally, there is a whole range of educational and learning resources on offer, which will help you progress as a trader. But what about the actual trading experience on offer? How does it compare to some of the other larger platforms out there? Carry on reading this 101Investing cryptocurrency review to find out!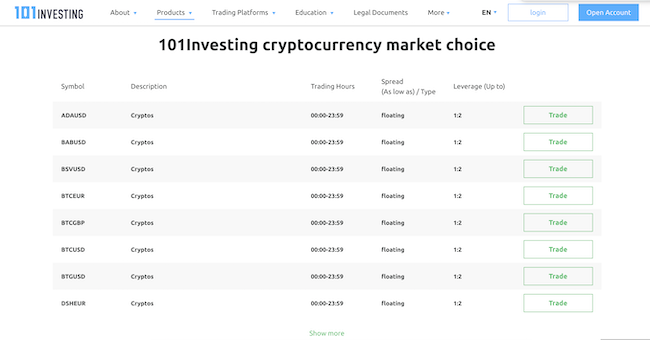 Spreads & Leverage
As with many of the other larger online brokerages out there, the spreads on offer and the leverage you can take advantage of will depend on what type of account you have. As such, your trading experience and potential profits will differ greatly.
In all, there are four account types available: Silver, Gold, Platinum and Pro. The lowest of these, as you might have guessed, is Silver. This account type offers the lowest leverage and slightly larger spreads. It is aimed primarily at the more casual trader or those new to it completely. The most competitive of the account types is the Pro account, which is available to a select few clients who have larger volumes to trade with. The rates you can avail with this account type will depend entirely on the volumes you have to trade with and are negotiated with 101Investing directly.
Generally speaking, the spreads are pretty competitive across the various instruments on offer. On forex trades, for example, the spreads on the EUR/USD are as low as 0.7 depending on your account type. Here are the spreads for some of the major currency pairs: EUR/USD 0.7, GBP/USD 1.3, USD/JPY 0.8, EUR/GBP 0.9, and EUR/JPY 1.1. As we can't fit a full rundown of the spreads on offer in this 101Investing CFD review, be sure to check the website directly for a comprehensive breakdown.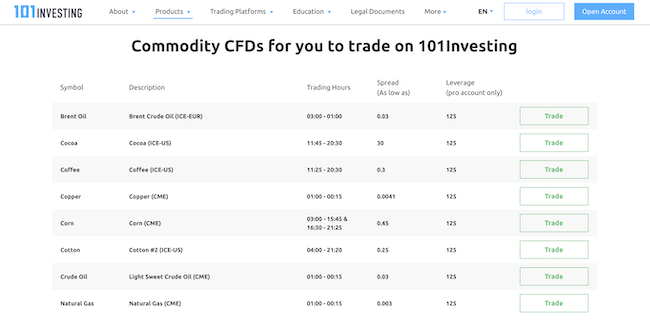 Platform & Tools
101Investing uses the popular MT4 trading platform. The MT4 platform has come to be viewed as the gold standard of trading platforms these days, so it is no great surprise to see 101Investing using the platform.
There are desktop, mobile and WebTrader versions of the MT4 platform available to all 101Investing users, which gives you instant access to your trading account no matter what device you have access to!
The MT4 platform is known for its ease of use, reliability, performance and stability. It offers a range of market orders and execution modes, customised trading options and analytical objects, giving you total control over the execution of your trading strategy.
Additionally, 101Investing has also made a number of courses, webinars and tutorials available in the educational resources section of the website, which will allow you to do a deep dive and unlock the advance features of the MT4 platform. These provide a fantastic resource for both new and more advanced traders and will undoubtedly help you unlock the full power of the MT4 platform.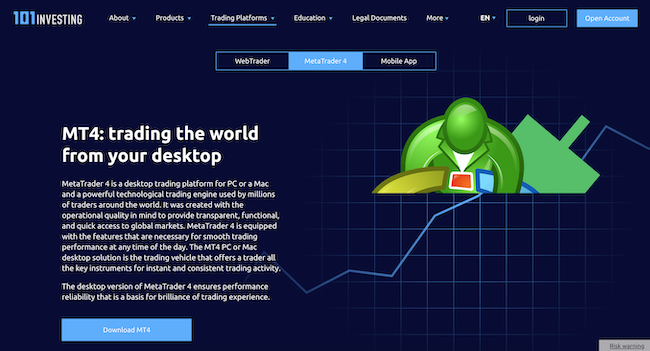 Commissions & Fees
As is the case with many, if not most, brokers around today, there are some account fees associated with your account on 101Investing. The most notable of these is the 'inactivity fee'. What this means is that 101Investing will charge you a small fee if you have funds in your account for a certain period of time and you don't trade with it. While this might seem like a harsh penalty, there is a good reason for this. As you can imagine, it costs 101Investing significant amounts of money to manage client funds, to keep the servers running, and to keep all the security features up to date. Usually, this gets paid for with the spreads offered on trades. However, if you don't actively trade with your account funds, this is problematic for 101Investing. As such, the inactivity fee incentivises you to actively trade and helps to cover the costs when you don't. If you don't trade for more than 60 days, you will have to pay a fee of between €80 and €160. If you go beyond this, the fees increase to €120 per month after 91 days of inactivity, and €200 per month after 181 days. Again, while this might seem harsh, this is in place really to stop users signing up to multiple platforms and never using their accounts at all. If you have any activity at all on your account, this shouldn't be an issue.
When it comes to commissions on active trades, 101Investing likes to keep things as simple as possible. On forex trade, for example, you will not have to pay any commission, though the spreads you get offered will depend on your account type. The zero commission policy applies to all of the CFDs on offer, including forex, cryptocurrencies, commodities, stocks and metals. Additionally, it does not charge any additional fees for deposits and withdrawals to the platform.
Education
As 101Investing is a platform aimed primarily at less-experienced traders, it has put a lot of effort into fleshing out the education and learning resources on offer. Unless you are a full-time, professional trader, it is more than likely that there is still a lot that you have to learn about the world of online trading. From identifying and following market trends to implementing the latest trading strategies, it's important to keep your skills up to date. Not only will this allow you to respond to changing market conditions and turn more profit, but it will also help to protect you from any potential losses you might suffer. As such, when you are on the lookout for a new broker to trade with, it's important to ensure that it has enough educational resources on offer to help you keep your skills up to date.

Thankfully, this is an area in which 101Investing is really beginning to excel. In many ways, this makes sense given that 101Investing was set up by the industry heads over at FXBFI with a specific view towards providing a platform for less-experienced traders.
As you can see in this 101Investing broker review, there are a number of resources on offer that are all kept fully up to date by the broker's learning and development team. These include live webinars, lectures and instructional videos on demand, eBooks, tutorials and dedicated courses. It also has financial resources available, such as an economic calendar and an earnings reports calendar, which list major financial events on a calendar so that you can incorporate these events into your trading strategy. While this information is freely available on the internet, it's great to have it centralised in an easy-to-reach location, saving you time and effort in the long run.

Generally speaking, the learning materials on offer are of a high quality. Some of the webinars are short, but there are also a number of full courses on offer. These include courses on general trading strategies and philosophies, as well as overviews of specific trading tools. We were also really impressed by the selection of eBooks available, which offer a great resource to have on hand when you are trading on a day-to-day basis. These cover a range of topics from trading terms and strategies to trading psychology and capital management approaches. These are great resources for the savvy trader to have on hand at a moment's notice!
These educational resources are extremely valuable and will help you to seriously level up your trading knowledge. The fact that these are included as part of your membership is an added bonus!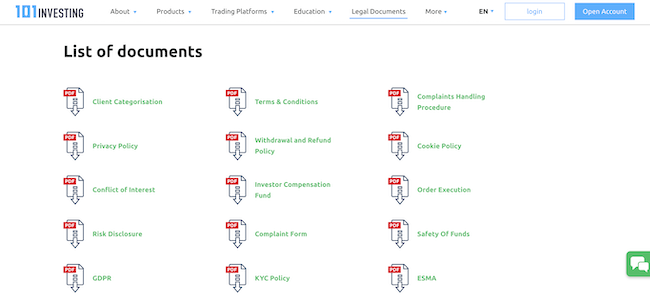 Customer Service
There are a number of contact options. Of these, the live chat feature is the most efficient, and once opened, it puts you in direct contact with a member of the customer support team.
Generally speaking, the response to customer queries is pretty quick once you submit your query within working hours – Monday to Friday, 9:00 to 17:00. Outside of these hours, you may have to wait for a direct response.
In our experience, the customer support agents were efficient, knowledgeable, and were generally able to answer any queries we had for them. User reviews online seem to be generally pretty positive, which is good to see for such a new broker. User reviews of customer support are a great insight into the company, and the fact that 101Investing has so many positive reviews is a good sign.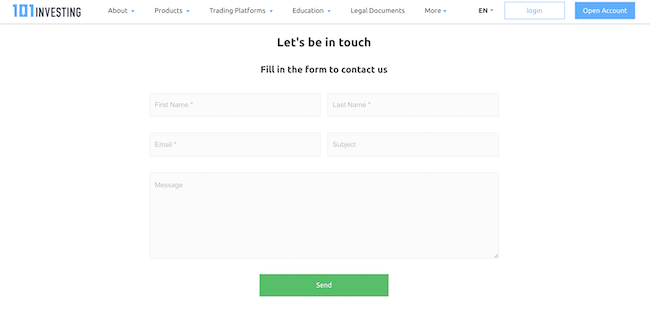 Final Thoughts
After giving a comprehensive overview of the platform in this 101Investing forex review, what is our final verdict? Although it is a new kid on the block, don't let its youth fool you – 101Investing is a seriously good, well-put-together product! Although it is aimed primarily at the less experienced trader, there are enough features on offer to keep traders of all experience levels interested. When combined with decent spreads and a great selection of financial instruments to trade on the open markets, 101Investing proves to be a broker you can really commit yourself to without having to look elsewhere.
If you are a novice trader, this is a really solid platform. Not only do the entry-level account types offer favourable trading conditions, but the educational resources on offer also allow you to level up your skills as you progress through your trading career. As you become more experienced, the various account types on offer give you more control and better trading conditions, which means that 101Investing is a platform you can really progress on as you build up experience.
101Investing is fully licensed and regulated by one of the most stringent financial authorities around – CySEC – which means that you don't have to worry about the safety of the funds in your account. The user reviews online seem very positive so far.
Broker Details
The fact that the broker was established by FXBI means that a lot of skill and experience has gone into launching this new product.
As it is established in Cyprus, 101Investing comes under the regulatory authority of CySEC, which is of the most reputable regulators around. This means that you shouldn't have any worries about the safety and security of your funds. If you do have any queries, however, then this information is easy to find on the website. Simply navigate to the dropdown menu on the right-hand side of the page and click 'Legal Documents'.
This will give you instant access to all the information you could want on the platform, as well as a full breakdown of the investor policies and guidance documents. These will tell you everything you need to know about the platform and its parent company.
Contacts
To get in contact with a member of the customer help team, navigate to the dropdown menu at the right-hand side of the homepage. From here, you will be given two options: 'Contact Us' and 'Contact Management'.
The 'Contact Us' link gives you a number of options to get in contact with the customer support team, who are on hand, Monday to Friday, during office hours to answer any queries you might have. You can get in contact them using email, phone or a live chat window located on the right-hand side of the homepage. Of these, the live chat option is the most efficient, and in our experience, customer support agents were generally pretty quick at replying to messages within office hours. You should note that responses submitted over the weekend may take slightly longer to get a response.
There is also a 'Contact Management' page. This gives you access to a feedback form that gets sent directly to the management team who deal with customer queries. You can use this to submit improvements and feature ideas that will be considered for future product developments. The fact that this resource gives you the ability to send a suggestion or feedback comment directly to the management team says a lot about how seriously the team at 101Investing takes customer feedback. This is a unique feature that we have not come across on other platforms and that we would like to see replicated elsewhere.
FAQs
 What commission fees are there?
101Investing does not have any commission fees in place on any of the trades you make, or on deposits and withdrawals to the platform. There is a small inactivity fee that will be charged to your account if you do not activate your account after 60 days.
What trading platform does 101Investing use?
101Investing uses the Meta Trader 4 (MT4) platform, which is available in desktop, browser-based and mobile app versions.
Does 101Investing have a dedicated mobile app?
Yes! 101Investing has a dedicated mobile app available based on the MT4 trading platform. This is free to download for 101Investing users.
Are there different account types?
There are four account types on offer depending on what volumes you want to trade with. These include Silver, Gold and Platinum account types, as well as a Pro account for professional traders.
Is 101Investing good for new traders?
101Investing offers a solid package for both new and advanced traders. Novice traders will feel particularly at home here thanks to the easy-to-use platform and the massive amount of educational resources on offer.
Where is 101Investing based?
101Investing was established in and operates out of Cyprus. This means that it is regulated by CySEC, one of the most stringent financial bodies around!