Expert's Viewpoint
It seems that the past year has been a bumper time for new trading brokers springing up in the Marshall Islands, and one of the latest firms hot off the press is 1Market.
However, what makes this broker different to many other offshore brands is that it has overtly welcomed regulation – 1Market is regulated by CySEC and adheres to the principles laid out by MiFID, with segregated funds and robust data protection. As such, you can have complete confidence that this is not a scam broker looking to make a quick buck from its unsuspecting clients.
There are a variety of different assets to trade at 1Market across all of the standard asset classes, including stocks, forex, indices, commodities, CFDs and more besides. Clients have access to MetaTrader 5, which ensures that this is a broker that enables its investors to enjoy the finest user experience and trading conditions.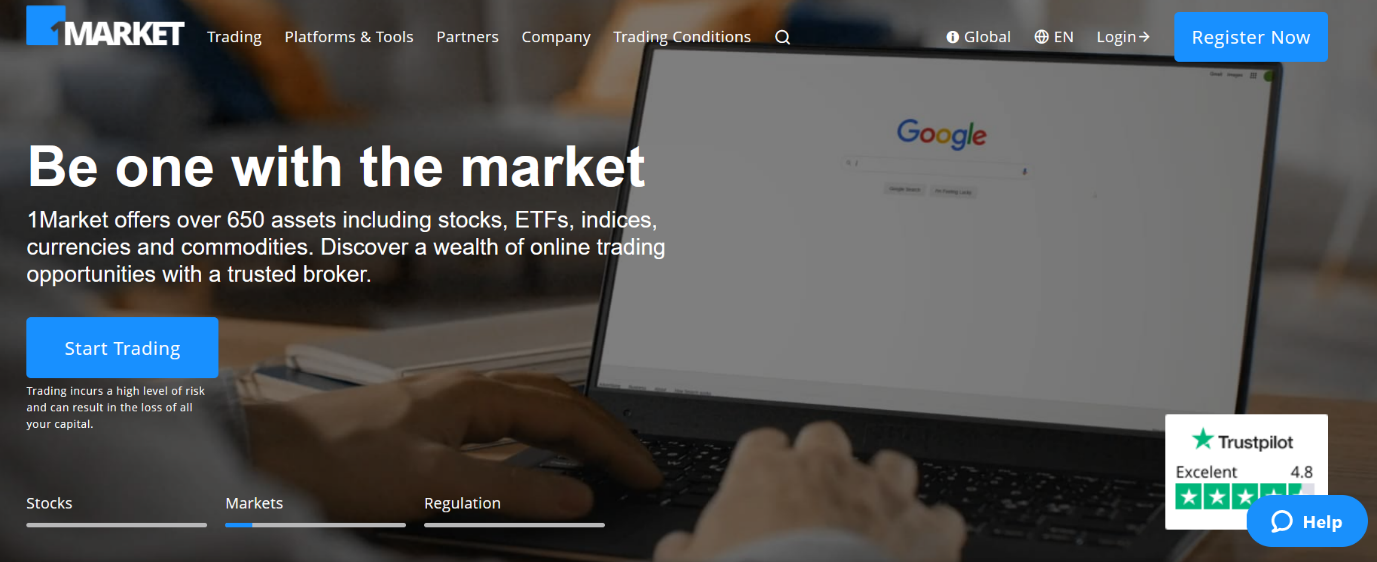 All of the standard MetaTrader tools and charting features are available, as well as unique daily market reports to ensure you stay one step ahead of the game. For those that favour such things, you can also engage in social and copy trading, which can be a fantastic way of 'piggybacking' on the success of tried and tested traders.
An innovation that is exclusive to 1Market that we have to touch upon is its 1nsight live trading feed. This algorithm lifts data from thousands of traders' activities on 1Market's platform and feeds this information back to its client pool. This allows you to take advantage of real market insights as they unfold. As you'll surely agree, this is a very useful weapon to have in your trading arsenal.
With customer support provided via live chat, phone and email, 1Market covers all of the bases when it comes to legitimising itself as a broker you can trust. Despite only being established in 2021, it has already won trophies at the Top Forex Awards – any doubts about its integrity can be easily kicked to the kerb.
Broker Summary
1Market was founded in 2021 in the Marshall Islands. The broker has two different platforms – 1market.com, which is its global portal for traders all over the planet, and 1market.eu. This latter option is regulated by CySEC, and is available exclusively to clients based in European Union member countries.
Broker Intro
Normally we'd apply a sceptical approach to any new broker that enters the market, but at even just months old, we have seen enough from 1Market to suggest that this is a firm operating at the highest level.
Established in 2021 in the Marshall Islands, 1Market doesn't want to be considered just an offshore broker of mysterious origin, and it has also created its EU platform, which is regulated and licensed by CySEC.
There is an exceptional trading experience available at 1Market, and that is powered by a number of converging factors. Access to MetaTrader 5, plus the WebTrader platform, are an excellent starting point. Factoring in the added value from its unique 1nsights channel, which provides real-time market updates and trends, traders have access to all of the information they need at their fingertips.
There's more than 650 tradable assets available, too, with a stack of different technical indicators, charts and signals at your disposal to help you make the right calls.
You'll find plenty more positives with this broker, and in this 1Market review, we'll look to explore those in greater detail.
Spreads & Leverage
At 1Market you can expect a fixed spreads approach. This means you will know how your trading position will be affected without the rug being pulled out from under you. Our 1Market forex review paints a positive picture, and with good reason.
As is commonly the case, 1Market offers varying spread levels depending on which account type you opt for – as ever, those at the 'bottom', i.e. a Mini account holder, will see spreads of four pips on EUR/USD forex pairs and five pips on GBP/USD position.
In contrast, top-tier 'Diamond' account holders can enjoy spreads of two pips on their EUR/USD investments and the same for GBP/USD trades, so you can see how wide the gulf is between 1Market's client base.
You can see a more specific rundown of 1Market's spreads listed on its site. While these numbers maybe aren't as generous as at some other brokers, we applaud the broker's transparency by detailing in advance the difference between the 'bid' and 'ask' prices straight off the bat.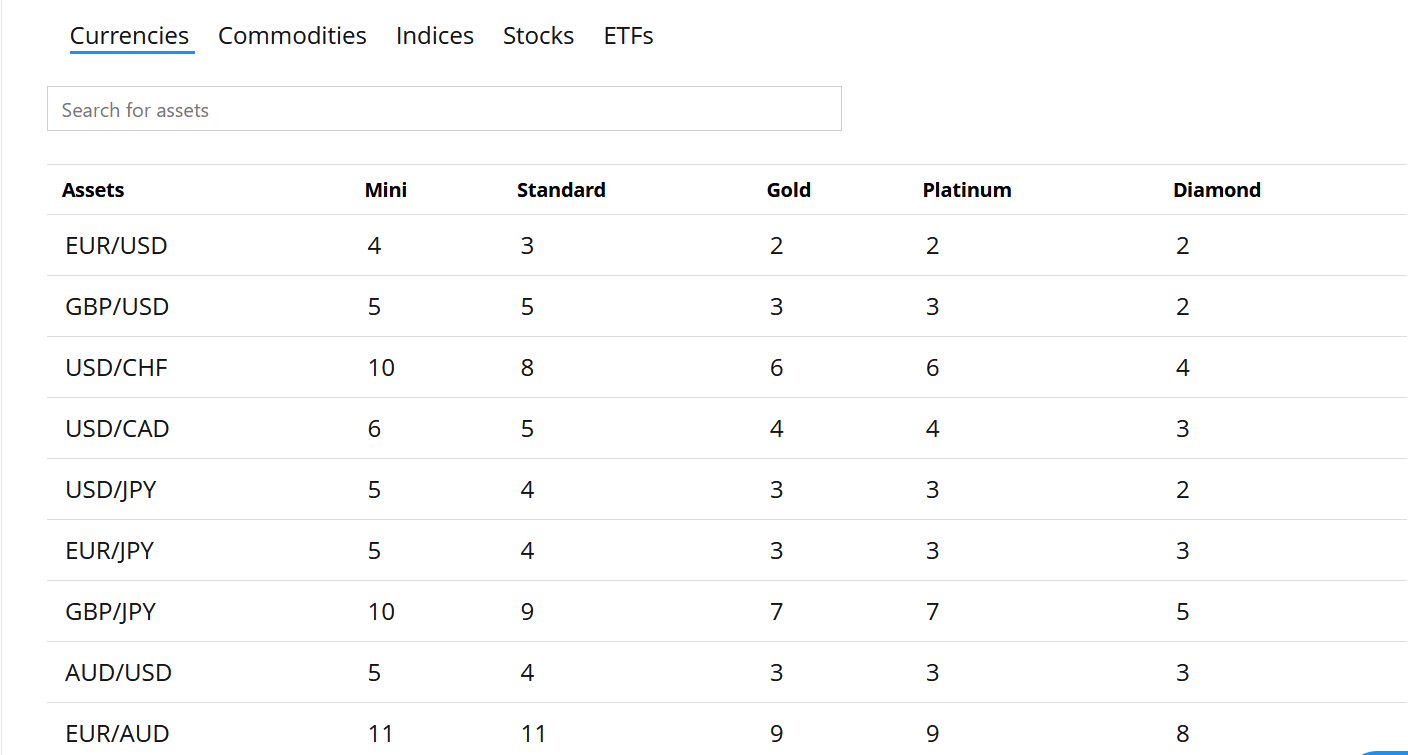 As far as leverage is concerned, all account holders are able to access the same ratios – that's great news – with some impressive levels including 1:400 on many major forex pairs and commodities, with 1:50 on the leading indices and 1:20 on the broker's stocks catalogue.
We may consider these leverage amounts to be lower than would be the case with other offshore brokerages. However, remember that 1Market boasts the advantages of being based offshore but with more considerable regulation – that way, the broker can offer attractive leverage and complete peace of mind.
Platform & Tools
As mentioned, 1Market is not ducking the issue when it comes to providing a world-class experience for its clients.
The broker has gone straight in at the top end with MetaTrader 5, ensuring that you can access industry-leading trading conditions with the best-in-class platform that is available on your desktop and mobile devices.
You can trade the firm's substantial asset library with a couple of clicks, accessing essential charts, graphs and other analytical tools along the way. All of the usual order types and methods of execution are available, and you can set your platform to a range of different time zones to suit.
Of course, all of your trading activities are fully customisable too. If you have knowledge of MQL-5, you can code a range of strategies and your own unique indicators to help take your investments to the next level.
This may sound like bullish overkill, but MT5 really is the best trading platform in the business.
Up to this point, you may have noticed a glaring omission – we haven't mentioned a dedicated mobile app of any kind. That's because, at the time of writing, 1Market doesn't offer one, although the broker declares that an app is 'coming soon'.
Let's make mention of WebTrader too, which lets you open/close and monitor positions through your browser, and again remind you of the 1nsight analytics tool – a next-level copy trading solution.
With just a couple of clicks, you can set into motion trading strategies such as hedging, place stop/loss and take profit orders, access more than 120 technical indicators and open/close positions – all in a matter of seconds. All of these factors are sure to be the key to successful trading in 2021 and beyond.

Commission & Fees
Although it's pretty much par for the course these days, 1Market offers commission-free trading across its 450+ strong collection of stock trading opportunities.
In fact, there are few fees at all associated with 1Market's trading environment. However, you should note that overnight fees are in place. These payments, charged at 00:00 GMT, are a regular rollover fee. But on the plus side, it's good to know that overnight fees are not charged from Friday through Sunday night, so you can hold positions over the weekend without fear of charge.
For example, the overnight fees on Coca-Cola stocks are -0.0109 for Buy and Sell positions, while the charge on EUR/USD trades is -0.0072 (Sell) and -0.3794 (Buy).
Education
There is plenty of educational content available at 1Market, and while this is aimed more at experienced traders than beginners – there's no 'how to' guides, for example – all clients will find the material presented of use.
Let's start with Trading Central, a platform that all 1Market users are offered access to. This is a real-time algorithm that delivers all manner of signals, indicators and analysis, enabling you to make better-informed decisions in your trading. You can analyse support and resistance levels, choose from a range of signals and take your pick from a variety of trending tools.
There's a delivery of daily market news, too, so you can stay in the loop as to what is trading well, what is on the slump and what the overall market conditions are like.
Feeding into the daily market updates is a dedicated news section. In our testing, this was updated at least once a day. This section identifies volatility in specific markets, reveals key earnings reports and other market-moving dates for the diary. It also recounts general economic conditions to give both a macro look and a big picture feel to the trading conditions today, tomorrow and into the next few weeks.
Lastly, keep your eyes peeled for the upcoming 1Market Social. This looks to be a traditional social trading tool by all accounts. However, it will be delivered exclusively through a dedicated app, which will be very useful in getting a different perspective on the market.
Customer Service
1Market claim that its customer support team is available 'around the clock', and in our testing, we found that to be a fair observation – albeit from Monday to Friday, rather than 24/7.
Call the phone number listed on the site and you might just get through to an advisor after a few rings, and they can offer direct guidance if you have any issues with your account etc.
The email and messaging system are a bit slower to secure a reply, so use these methods if your enquiry is less urgent in nature.
There's a live chat feature on the site too, and this is perhaps the most rapid way of contacting 1Market directly. We found the support agent to be friendly and efficient in their work, rather than robotic and unhelpful as can sometimes be the case.
Final Thoughts
Offering the perks of an offshore broker with the rigid regulation of a licensed firm, 1Market brings the best of both worlds to the market.
You can access tremendous levels of leverage if you so wish, which we would attribute commonly to offshore firms. In the case of this broker, it does mean you know that your money is kept safe and segregated. Sadly, that's not always the watchword for these brokers based on tiny islands in the Pacific.
From the different account types, you can see that 1Market wants to position itself as a master of all trades – offering solutions for both retail and social traders as well as those professionals for whom this is their sole source of income. Not all brokers can pull that approach off, but 1Market just about gets it done.
There's plenty more to admire about 1Market, and much of it will improve your trading experience. MetaTrader 5, for those yet to use it, is the successor to MT4, and it's something of a coup from the broker to offer this platform to its clients. WebTrader is an added bonus, too, although we'd like to see a dedicated mobile app. 1Market claims this is 'coming soon'.
We always favour brokers that do things a bit differently and who offer their traders a tool or proposition that simply isn't available anywhere else. That's why we like the 1nsight channel that 1Market offers. Not only is it unique, but it adds genuine value too and isn't merely a gimmick. These insights could make a huge difference to your profitability.
There's plenty of other 'value adding' tools of the trade at 1Market, with Trading Central and the broker's daily news updates offering you the necessary information to make more informed decisions. Should you open/close a position right now? This is, ultimately, the golden question that dictates success.
With more than 650 different tradable options, there's opportunities galore at 1Market. While we wish the broker would do away with a system of 'top tier' account holders enjoying perks like tighter spreads, while those on a lower budget see limitations, unfortunately, this is commonplace across the industry and not exclusive to this broker.
With all of the other administrative nuts and bolts in place, there's no reason not to like 1Market. The broker might be new, but it's already made giant strides of interest in the brokerage game.
This broker review of 1Market cannot be exclusively positive, however. Those traders with less capital to their name should note that the 'Mini' account is not as strong an offering as we'd like – there's no MT5 and no market updates. It is important to bear this in mind for the sake of balance.
Broker Details
1Market is headquartered on the Marshall Islands but has welcomed regulation from CySEC and the other governing bodies associated with MiFID.
The broker was established in 2021 but has already scooped a couple of industry awards – 'Best CFD Broker' and 'Best Introducing Broker Program' at the TopForex Awards.
1Market offers its clients access to MetaTrader5, plus its proprietary 1nsight tool. More than 650 assets can be traded via its platforms.
Customer support is available around the clock, five days a week, and you can rest assured that any funds you invest with 1Market are held in segregated accounts – should the worst happen, you know that your money is safe and secure.
Contacts
FAQ
Is 1Market a scam broker?
Traders have every right to be cautious about offshore brokers – especially those barely a year old, but we can say with confidence that 1Market is not a scam broker. The broker is regulated and licensed, hold funds in segregated accounts and offers robust customer support. This is not a firm that will be leaving you high and dry. The broker even has a positive score on TrustPilot, which is something of a rarity in trading.
Does 1Market offer Islamic accounts?
Yes. You can apply for an Islamic account at 1Market by contacting the broker's customer service team by email. The team can be contacted at the following address: [email protected].
Which payment methods does 1Market accept?
As you would expect, there's a good variety of options that can be used to deposit and withdraw funds into and out of your 1Market account. These include the major brands of debit and credit cards, e-wallet, mobile payments and wire transfer. The minimum deposit is $250 for a basic account, while Diamond account holders will need to deposit $100,000 to get started.