As regulatory oversight tightens in the UK, Europe and the US, many traders have begun to look offshore for more appealing offers from forex brokers looking for their loyalty. It is always a double-edged sword when dealing with an offshore broker.
Our AssetShot review revealed that it is an offshore forex and CFD broker located in Saint Vincent and the Grenadines (SVG), a welcoming island nation with relaxed controls on international business companies. The local regulator, the Financial Service Authority (FSA), does issue licences, but it does not provide regulatory oversight for any of its forex brokers. There is a multitude of forex brokers that operate out of SVG.
AssetShot is also new to the SVG scene and is looking to make a name for itself while building a loyal customer base. As a relative newcomer, this broker may go out of its way to provide excellent service in the way of support and bonuses.
If you are a trader who prefers to deal with a broker that offers better terms than in heavily regulated jurisdictions and you are prepared to accept the risk of partnering with an offshore start-up with little to no regulatory oversight, then AssetShot may be a broker that captures your attention. Its website is fairly standard in its disclosures, but if you have more questions, be sure to email your queries and then evaluate the responses.
Broker Summary
AssetShot is a relative newcomer to the forex and CFD trading community in the Caribbean financial hub of SVG. Its homepage states: "Expand your possibilities with AssetShot." It is possible to trade any one of its 400+ assets with levels of leverage unheard of in the UK, Europe or the US. It has a licence to operate globally, but the local FSA does not perform any regulatory oversight functions over the forex brokerage industry.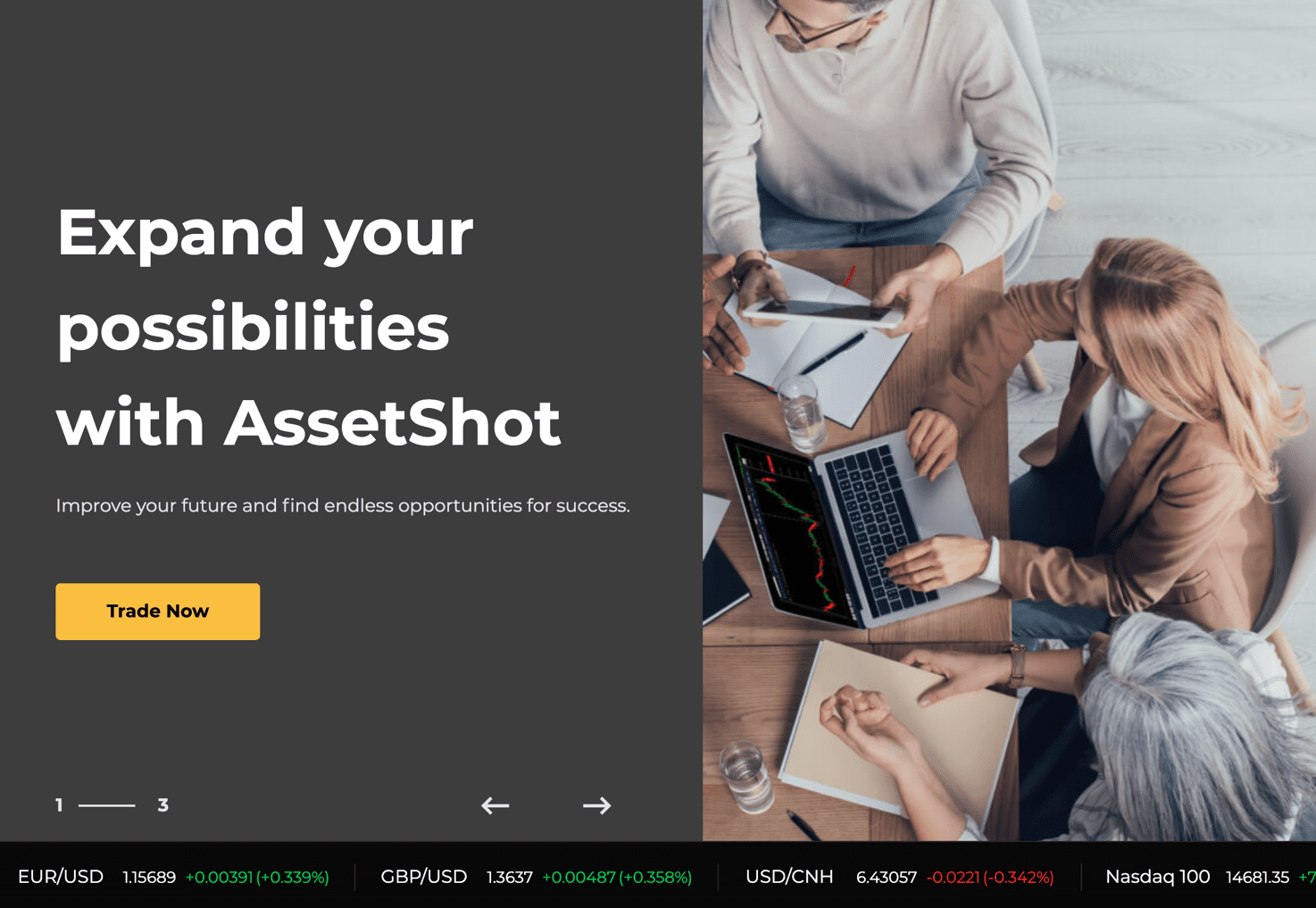 Broker Intro
AssetShot is a young and upcoming forex and CFD trading broker operating out of SVG. Due to its offshore status, it is not required to adhere to the strict regulatory regimens that have become customary in most developed countries. Leverage limits are higher, and the company is free to pursue whatever marketing strategies it deems necessary to acquire and retain new customers. Many traders are searching for this level of support, even when the risk dynamics of dealing with an offshore broker come into play.
The AssetShot management team made a wise decision to offer only MetaTrader 4 (MT4) platform products to deliver its services. MT4 is the most popular trading platform in the forex industry and has been such for nearly two decades, with easy-to-understand screens, every indicator and tool you could ever want, and one-click trading and history access at your fingertips. A free demo system is standard, and every trader will find a mode of trading to their liking since the downloadable MT4 system is supported and MT4 Mobile, MT4 Web and MT4 macOS.
You may also trade over 400 instruments with no fees or commissions to get in the way. Spreads vary by account classification, as do leverage limits, but you may access 20+ global markets and exchanges. Traditional trading of currency pairs is offered, with 60 different pairs to choose from. However, in our AssetShot cryptocurrency review, we saw no mention of cryptos or any details on what 60 forex pairs were covered.
The remaining assets consist of indices, stocks, metals, commodities, energies, and futures. During our AssetShot CFD review, we determined that all these additional asset categories
can be traded using CFDs. With a CFD, the trader may wager on the direction an asset will take in the market without ever having to purchase the underlying asset.
Spreads & Leverage
Spreads and leverage possibilities are tied directly to AssetShot's various account options, as depicted in the image below:

The amount of your initial deposit defines your account category:
Minimum Deposit = $250
Leverage = "1:100"
Spreads are from 2.8 pips
Minimum Deposit = $2,000
Leverage = "1:200"
Spreads are from 2.5 pips
Minimum Deposit = $10,000
Leverage = "1:300"
Spreads are from 1.5 pips
Minimum Deposit = $50,000
Leverage = "1:400"
Spreads are from 0.1 pips
There are no other differences between account features other than that Expert Advisors can only be used if you maintain Platinum status. Each account can access the 400+ portfolio of tradable assets. Each account may also have unlimited open positions, 5% stop out levels, scalping strategies, and news trading. Visit the accounts section of the website for a full list of the accounts available.
Setting up a real account requires a completed application, personal identity documentation, and a deposit. Contact customer service to get the process started. If you have any questions, an account representative will help you with the account opening requirements, many of which are dictated by international law. Deposit options range from credit cards to banking wire transfers. AssetShot does not charge a fee for either of these processes but check with your bank for any additional fees that it may attach to your transactions.
Anti-money laundering laws and Know Your Customer rules require that AssetShot verifies your identity before you may actively trade on its system. It is important that these materials are submitted correctly so that when it comes time to make a withdrawal, all documents are in order. The website has a page called 'Account Verification' that defines the necessary documents.
Platform & Tools
AssetShot offers a free MT4 demo trading platform before you open a real account. For actual market trades, AssetShot is a straight-through processing (STP) broker and has customised four versions of MT4's various trading platform configurations, as described below:
MT4 Terminal: For desktop traders who are familiar with the downloadable version of MT4, which happens to be a major portion of the trading community, you will be pleased to find that the MT4 Terminal is the preferred option. Your familiar charts, indicators, tools, and one-click trading will all be there to greet you when you start trading.
MT4 Mobile: For the on-the-go trader, which is becoming more prevalent in our fast-paced society, MT4 Mobile can be accessed by your handheld device anywhere you have an internet connection. You will find all of the information you need to make your trades, supplemented by MT4's one-click trading and support for trading CFDs.
MT4 Web: MT4 Web requires no download while providing the full array of MT4 features and functionality. All you need is access to the internet to access the AssetShot servers.
MT4 for macOS: For fans of Mac devices, MT4 also has a solution for you. Use of the 'Wine' emulator app is a necessity, but once applied, you will have the full functionality of advanced Mac features that you have come to expect.
Answers to basic questions regarding the MT4 platforms can be found in the MT4 Guide. It follows each platform option is fully described and consists of nine questions with answers provided. For any other questions, consult your personal account manager or contact their support.
Commissions & Fees
On its website, AssetShot asserts that it has "low to zero commissions". It also claims that it has no hidden fees. There are no fees charged for deposits or withdrawals, but there may still be overnight swap fees in traditional forex trading markets. Those institutional traders with Platinum accounts may elect a form of pricing that is a blend of unit fees and commissions, which is why the term "low to zero commissions" appears.
If you are curious as to how a broker makes money from CFDs and forex trading, it typically benefits from the spreads offered. With CFDs, however, when a trader loses, the broker wins, and vice versa. However, overall, a broker must manage its net trader positions and hedge its liabilities correctly in the market to make a profit.
Education
During our AssetShot forex review, we did not see a tab for a learning academy or a link to educational materials. However, in the 'About Us' section, it states: "We believe that there is a successful trader in everyone, including you. Enjoy access to five-star-rated educational materials and your very own trading mentor." If you are a beginner trader, to completely review AssetShot, you may need to contact the broker directly and enquire about the educational materials. You can contact the team via a number of methods such as email at [email protected], the online form, or telephone.
Customer Service
On the company's 'About Us' webpage, it states: "Our multi-lingual support team is here to assist you with all your questions 24 hours a day, 5 days a week via email, telephone, and live chat." For our AssetShot broker review, we were unable to locate a "live chat" service on any webpage. The 'Contact' page includes a formatted email form and telephone number.
Every account class comes with a dedicated personal account manager. In order to open an account, you must request an application form from customer service.
Final Thoughts
Do you want to expand your possibilities in your personal trading environment? Do you desire greater leverage and more liberal account offerings than your domestic brokers can currently provide? Are you willing to accept the risk of an offshore broker in start-up mode? If you are a trader who answers in the affirmative to each of these questions, then AssetShot may be a broker that's worthy of your interest.
AssetShot is a relatively new broker, but for that reason, it may also be willing to try harder to win your patronage with special deals and attentive personal account managers. The firm's website does not provide a great deal of information about how an actual trading experience may turn out on its platform. Therefore, you might have to set up a real account to gain access to more than what is visible on its web pages. AssetShot claims that education and research materials are top of the line, but these items may only come with a real account.
Offshore start-up brokers are always riskier than domestic ones. AssetShot claims that it provides easy access to a wide range of instruments to make your trading experience an enjoyable experience. The appeal of higher leverage limits and the flexible operating environment provide real advantages. Make sure that you ask any questions you need help with. Speak to an account representative to answer any queries before you start trading and take advantage of the trading mentor it offers its clients.
Broker Details
This site is owned and operated by Jess Group LLC, registration number: 917 LLC 2021, address: First Floor, First St Vincent Bank LTD Building, James Street, Kingstown, P.O. Box 1574, VC0100, Saint Vincent and the Grenadines.
Contacts
Jess Group LLC
Direct Telephone: +44 203 097 3737
Email address: [email protected]
Contact email form under Contact Section on the website.
FAQs
How do you open an account with AssetShot?
Contact customer service for a registration form, which will entitle you to a free demo account. To convert to a real account, Know Your Customer documentation must be submitted after funding your account via a credit card or a bank wire transfer. After approval of your documentation, you may then trade.
What trading platforms does AssetShot support?
AssetShot offers MetaTrader 4 (MT4) platform products, which include its standard terminal download version, web-based access, mobile access, and special macOS interface software.
How many assets does AssetShot offer for trading?
AssetShot offers more than 400 tradeable assets in its portfolio, which include foreign currency pairs, indices, stocks, metals, commodities, energies and futures.
How much leverage does AssetShot offer?
Depending upon your account classification, leverage available with AssetShot begins at "1:100" for its Bronze account and rises to "1:400" with its premium Platinum account. Silver is at "1:200" and Gold is at "1:300".