Broker summary and introduction
In many ways, DeltaMarket is your generic investment brokerage.
It offers the same trading products as other firms, the same suite of tradeable assets, and a variety of account types. All of this is wrapped up in a user-friendly website and backed by fairly robust security and customer support.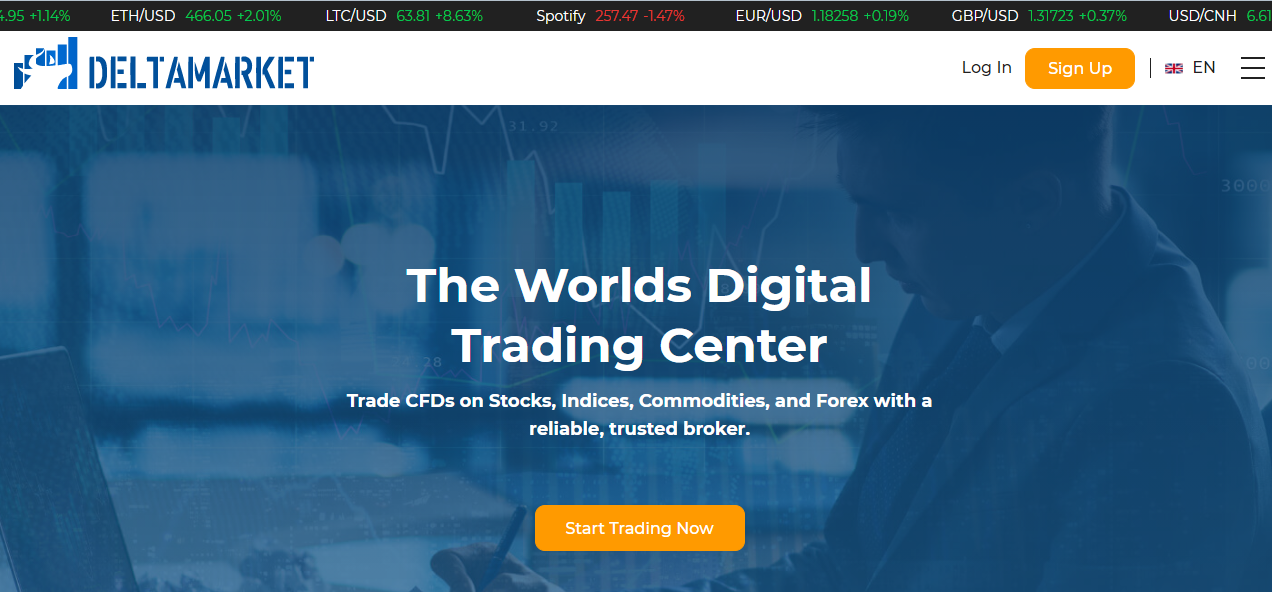 Deltamarket homepageDoes it offer anything special? What is it that sets DeltaMarket apart from the other brokers out there? In this DeltaMarket review, we will aim to find out.
Established in 2019 and operating from the Marshall Islands, DeltaMarket is licensed to operate within a number of international jurisdictions, with traders from the US, France and Belgium the only major nations to be left disappointed.
DeltaMarket is owned and operated by BI Global Brokers, an umbrella investment company that has a number of other entities in the trading sector to its name. This is positive because it means that it has the resources to manage and maintain DeltaMarket appropriately. Read on as we continue to comprehensively review DeltaMarket.
Features
Whenever we assess the features offered by a trading broker, we're looking for ideas that add genuine, tangible value to a trader's activities.
On that note, DeltaMarket has a few features that we could class as enhancing your user experience. Chief among these is the implementation of MetaTrader 4 (MT4) in its service. While this is pretty standard across the board, you should never underestimate the importance of being able to complete quick trades and transactions using an array of helpful technical indicators.
You'll find a pleasing selection of instruments and assets to trade, and while there are more exhaustive brokers out there, you won't go far wrong with the available forex, stock and CFD options that are available – as this DeltaMarket CFD review outlines.
In truth, the only major feature that is missing from its site is a more considered education section. We would like to see a regularly updated blog with helpful hints on market movements and the like, video tuition, stats and data – anything that can add insight into its traders' activities. Sadly, this is a major misstep on the part of DeltaMarket.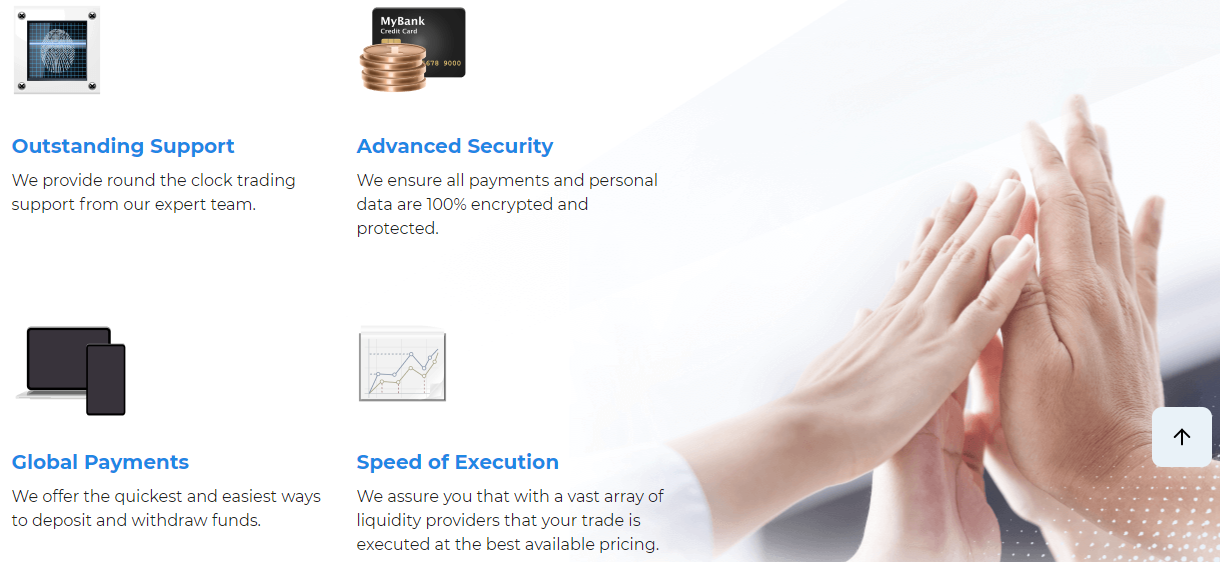 Account types
There are four different account types available at DeltaMarket, and as ever, these range in scale and benefits depending on how much you deposit and how much you are willing to trade.
The Bronze account is the entry point for beginner traders and newcomers to investing. You'll need $250 (or your currency equivalent) to get started, and you'll be subject to conditions that range from spreads of 2.8 pips and leverage of up to 1:300. No commission is paid, and you will have full access to the MT4 platform. All traders with DeltaMarket have more than 50 currency pairs to work with and a collection of 45+ CFDs, and trade sizes range from 0.01 to 50 lots. Unusually for 'lower end' traders, Bronze members do have access to a personal account manager.
For Silver traders, you'll need a minimum investment of $2,000, but you will benefit from spreads from 2.5 pips and your own Expert Advisor tool. Otherwise, there's not much of a leap up from the Bronze offering.
It starts to get rather serious with a Gold account, where for a $10,000 buy-in, you'll get spreads from 1.5 pips. Scalping is allowed, and, of course, you get all of the advantages enjoyed by Bronze and Silver account holders.
There is also the Platinum account, where you'll need to make a minimum investment of at least $50,000. As for the benefits, it's essentially the same as the other account types, though you can have an unlimited amount of open positions and spreads start from as little as 0.1 pips.
In addition, you can open an Islamic account if you wish. These offer no swap charges when you hold a position overnight.
Transactions
While DeltaMarket's collection of tradeable assets isn't as comprehensive as other brokers out there, all of the key bases are covered, with the usual suspects present and correct.
Our takeaway from this DeltaMarket forex review is largely positive. The broker allows you to trade more than 50 forex pairs via its MT4 platform, and these include all of the majors you would expect – USD/GBP, EUR/USD, USD/CAD and so on, as well as the minors and exotics from across Asia and the rest of the world.
You'll have access to a suite of 300+ stocks, including all of the major hitters in the space – Google, Amazon, Apple, Facebook and more. Of course, it also caters for more niche concerns and smaller independent businesses, so if you have an idea of a stock that is likely to soar, you may just find it with DeltaMarket. You can take advantage of low spreads, leverage of up to 1:300 where desired, and smooth transactions at live prices courtesy of MT4.
All of the key indices are offered by DeltaMarket. These include the FTSE 100, Nasdaq, Nikkei, Dow Jones, S&P 500, DAX and many more. As is the case across the board, you'll get the tightest spreads possible and rapid transaction times – plus leverage of 1:50. All are conducted free of commission.
You can trade in futures, precious metals and commodities such as gold, silver and oil, as well as a comprehensive array of energies from crude oil to natural gas.
Essentially, there are so many different assets to trade at DeltaMarket that you can easily build a nice portfolio, and while you may want to look elsewhere if you wish to specialise in one particular area of trading, those who seek value across the board will be satisfied by this broker's offering.
Deposits and withdrawals
One of the really pleasing aspects of transactions made with DeltaMarket is that it only accepts the most rigorous and trusted sources of payment. When you want to make a deposit or a withdrawal, you can use Visa, Mastercard or Maestro credit and debit cards, as well as good old-fashioned bank transfer. Withdrawals can take between five and eight working days to be completed, while bank transfers can take longer, depending on the institution used.
It should be pointed out the application of MT4 in your trading will ensure the most speedy of transactions, so you will never have to miss out on an advantageous position. This is another benefit of opening an account with DeltaMarket.
Platform
Keeping things simple, DeltaMarket has opted to offer its clients use of the MT4 platform only.
Despite the release of its successor, MetaTrader 5, MT4 actually remains the most popular and commonly used trading software around, and DeltaMarket members can access different versions designed for desktop, web and mobile use.
As you would expect, you can take advantage of trading all of the firm's asset library via the software, opening and closing positions, while taking advantage of a number of sophisticated tools, including technical indicators, one-click trading and – depending on your account type – expert advisors.
The MT4 platform also opens up other trading opportunities, such as hedging and 'black box' trades, and DeltaMarket has helped newcomers to the software by producing a full user manual on the website.
You can perform a full range of technical analysis techniques on all of the various versions of MT4 offered, and make the most of up-to-the-minute live pricing on your desktop devices, tablets and Apple and Android phones via the dedicated app.
To reiterate, if you don't want to download apps or software, then you can just use the MT4 web tool, which you can use anywhere and anytime you have an internet connection.
Customer support information
One of the most important aspects of any trading broker's service is its commitment to customer support.
In DeltaMarket's case, the news on this front is mostly positive, with traders able to contact the firm directly via phone (+441507243012), email ([email protected]) and the website messaging service on a 24/5 basis.
In our testing, it took a few minutes to get through via the phone support line, but once we had, we found the advisor on the other end to be polite and helpful in dealing with our requests. One of the perks of DeltaMarket's customer support is that it offers a call-back function. If you are busy, you can request a call back at a specific time and date.
If you send the broker an email with a question, or use the messaging system that you can see on the contact page, you should note that it can take as long as 24 hours to receive a reply.
It's a thumbs up for the customer support offered by DeltaMarket, though we and most traders would love to see a live chat function added to the website. Sometimes, this is the quickest and most efficient way to receive assistance.
Safety
While there are risks to your bankroll whenever you open a trade, fortunately at DeltaMarket, you don't need to worry about losing money to more nefarious security breaches.
The broker has employed an array of firewalls and security measures, including the latest SSL encryption, to ensure that your personal data is kept safe at all times.
When you log onto the site, you should see the padlock icon on your web browser – this is another happy sign that lets you know that you're in safe hands, because the site's credentials have been audited and certified by an independent agency.
If you are worried about sharing your financial details on the website, remember that DeltaMarket only accepts deposits and withdrawals via the most reputable of payment providers – any issues can be resolved swiftly and easily with full transparency.
Spreads & leverage
It is a huge frustration with brokers – but not uncommon – that the nature of the spreads you can see will depend upon the account you have opened.
DeltaMarket is not alone in offering the best spreads to higher-end clients, and the reason is simple: the greater the liquidity in the market, the lower the spread will be. That's why high rollers get a better deal than newcomers or lower-budget traders.
Platinum investors can enjoy the tiniest of spreads, which can be as low as 0.1 pips, but you will need a sizable bank account for that privilege. At the lower end, your spreads can start from a sizable 2.8 pips – and those are less-than-ideal trading conditions. However, DeltaMarket is no different from the vast majority of brokers in that respect.
The leverage that is available to you will depend upon the asset class that you wish to invest in, but the good news here is that all account holders – no matter what your initial investment – can benefit from leverage of up to 1:300 in some cases. This is an excellent advantage to trading with DeltaMarket, and one that, when used sensibly, can ensure that you reap the maximum benefit from your positive trades.
Commissions & fees
One of the absolute standout features of DeltaMarket is that it doesn't charge fees or commissions on any trade – whether you turn a profit or not.
It is a major bugbear for traders, particularly those on smaller budgets, when their broker takes some of their money in commission, or when they charge overnight fees or charges for inactivity and so on. It feels unnecessary, especially when – in theory – the broker should have other ways to make money.
This is a major advantage to trading with DeltaMarket, and it's certainly a unique selling point that catches the eye of traders looking to maximise their return on investment.
Education
There are two types of educational material available in the trading space. These are basic information aimed at complete newcomers to investing and those seeking a 'refresher', and more sophisticated content. These include interviews and insight from experts who have been there and done it – aimed at advanced traders.
As far as DeltaMarket is concerned, the emphasis is very much on the former – and it is in pretty short supply, it has to be said.
There is a glossary of terms that forex traders, in particular, will find useful, a short FAQ section, and each of the asset pages features a concise blurb about dos and don'ts for trading – but that's about it.
The educational side of things is certainly one area in which DeltaMarket struggles.
Conclusion
Established at the end of 2019, DeltaMarket has already come a long way in terms of the growth of its customer base and in the quality of its operations.
Let's start with the positives, of which there are plenty. It has a diverse array of tradable assets available, which, while not as sizable as some others, still offers traders plenty of scope in their day-to-day activities.
There are four distinct account types suited to traders of all budgets and experience levels, with a decent amount of leverage up for grabs, and no fees or commissions to pay on trades of any size.
The adoption of MT4 is pretty standard, but at least DeltaMarket customers have access to desktop, web and app versions of the software, and there is a really handy user guide available on the site if you wish to take your knowledge of the capabilities of MetaTrader to the next level.
You can access customer support 24 hours a day, five days a week, and you can rest assured that your personal details are kept safe and secure thanks to the security measures that have been implemented in the site design.
Finally, we must make mention of how quick transactions are to complete – you can open and close positions in the blink of an eye, which is a real bonus when trading volatile markets.
We should add some balance by mentioning a couple of flaws in DeltaMarket's armoury. You will find larger collections of tradable assets elsewhere, and we do have a bugbear about the accounts – traders on smaller budgets are penalised somewhat with extortionate spreads that really will cut into your profit margin. Not everybody has the capital to plunge into a Gold or Platinum account, which is something that DeltaMarket seems to have overlooked.
Also, you wouldn't call a visit to the DeltaMarket website an educational experience in any way – the lack of resources and material in this area is something of a disappointment.
To conclude this DeltaMarket broker review, we are left to reflect on a new trading broker that offers its customers a robust trading platform backed by efficient customer support. There are bugbears, absolutely, but on the whole, DeltaMarket is delivering a solid user experience for traders new and old.