Find out why we recommend Tickmill over Onlinemarketshare.
Expert's Viewpoint
Overall, this broker is trustworthy. The website contains a number of indicators that the broker is real, such as a postal address and a variety of risk warnings explaining that trading the assets on offer can incur risks. These are located in the footer of the website, meaning that the possibility of a risky trade is acknowledged on every page of the website.
It is, however, recommended that traders do their own due diligence on any foreign exchange broker that they plan to use before going ahead. It is the trader's own responsibility to make sure that this is done and to protect their own interests wherever possible.
Aside from the trustworthiness of the broker, the picture for traders is mixed. The site offers much of the basic foreign exchange brokerage requirements that a trader could want, such as a variety of account types and the MetaTrader 4 software platform. Leverage rates are strong, and the platform can be accessed using mobile or other devices.
However, the spreads on offer are mixed, and depending on the account type they choose, a trader may quickly find that they are unable to get a good deal. Traders may also find that the educational output created by the broker leaves something to be desired, as there is little in the way of video content on the website. Also, there is not a whole host of information on the topic of customer service available – such as the opening hours of the helplines and so on.
Ultimately, this broker does not necessarily need to be avoided. However, given its comparatively basic level of service, it may well be worth a trader thinking twice about whether it is the right broker for them.
Broker Summary
Onlinemarketshare is a Dominica-based broker owned by Share Tech Ltd. It provides a wide range of services to traders of foreign exchange pairs and also of various other asset classes, such as metals.
It is, in many ways, a standard broker with little in the way of additional or unusual offers. It provides a basic customer service helpline, an entry-level amount of educational materials, and a fairly standard range of asset classes. That said, the broker does appear to have trustworthiness on its side – and while traders ought to keep the veracity of the broker's claims under review, it is worth noting that the broker publishes extensive details of its location, risk warnings and more.
This review will delve into further detail about the way that Onlinemarketshare works, and will look at how traders might be able to benefit from the broker and enhance their portfolio in whatever asset class they choose to trade.
Broker Intro
This broker is ideal for those who want a range of choice when it comes to asset types, with everything from foreign exchange pairs to precious metals on offer. The platform here is MetaTrader 4, and the leverage level is universal across the board no matter what sort of account is held by the customer. No commissions are charged, and it costs nothing to set up an account. However, traders ought to note that spread fees can vary, and can also be expensive.
Spreads & Leverage
As is the case with many brokers, Onlinemarketshare uses a spread-based system as one way to make revenue. This means that it calculates a particular proportion of the difference between the purchase price and the sale price, and then passes this on to the trader.
The exact spread can vary depending on the account type that a trader holds. According to the Onlinemarketshare website, a bronze account holder can expect to see a spread of 2.8 pips. Those with a silver account, however, are likely to see spreads of 2.5 pips. Gold account holders will enjoy even tighter spreads of 1.5 pips, while platinum account holders will see spreads of 0.1 pips and above.
Onlinemarketshare also offers customers the opportunity to trade 'on the margins', or by using leverage. This means that traders can, in effect, borrow some of the capital required to make a deposit from the broker – meaning that the size of any potential gains or losses could be amplified. Unlike spread levels, though, the amounts of leverage on offer do not vary from account type to account type with this broker. A leverage basis of 1:300 is available across the board.
Platform & Tools
Traders at Onlinemarketshare can benefit from the use of MetaTrader 4, which is one of the most widely used trading platforms. The terminal version of this software comes with a wide range of advantages for the trader, including the capacity to adapt to different operating systems as well as instantaneous execution of trading orders. It is also secure, with the platform offering what is known as 'end-to-end encryption'.
In addition to the terminal version, there is also a mobile device on offer. This allows many of the same benefits, but comes with an added chat function and the obvious portability. There is also a function to set up alerts, which are delivered to your phone's home screen when a relevant market moment occurs.
However, while access to MetaTrader 4 is available across platforms, it is important to note that the latest version of MetaTrader – known as MetaTrader 5 – is not available with this broker. Experienced traders who have become used to the latest iteration of this popular software might find this broker to not be up to their requirements.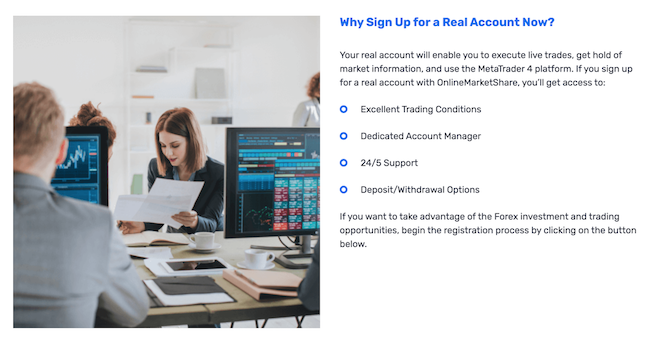 Commissions & Fees
First of all, the Onlinemarketshare website makes it clear that commissions are not charged – meaning that whichever of the broker's four account types a trader opts for, they will not have to pay. In terms of fees, Onlinemarketshare does not charge anything to set up an account.
Education
At Onlinemarketshare, trading education is somewhat thin on the ground. Traders who are looking to be guided through the trading process – or at least through its early stages – with video or similar content may find themselves somewhat disappointed, and may need to seek this service from somewhere else.
The limited education section does contain a series of frequently asked questions, and the answers to these cover a range of points such as foreign exchange volatility, the difference between 'long' and 'short' positions for traders, and much more. There is also a foreign exchange trading dictionary available, and this covers a range of complex topics such as slippage and arbitrage.
There is a wide range of guidance available on the use of the MetaTrader 4 platform. This covers a range of topics from information on Expert Advisors to the password recovery process. Traders are asked to contact Onlinemarketshare if they have any further specific questions for the team.
It is also worth pointing out that customers have the option to develop their foreign exchange education and skills with a demo account. This sort of practice account, which is offered by many brokers and which allows traders to hone their skills with no 'real' financial risk or potential to gain, can be opened via the Onlinemarketshare website.
Customer Service
It is also important to note that there is strong customer service provision available at this broker. Customers have several options when they want to get in touch with the firm, such as a telephone number or an email address. The broker's website is also available in two additional languages as well as English – Russian and German. While this is a welcome development, many other brokers on the market offer more languages than these.
It is not immediately clear what the opening hours of the broker's customer service desk is – so depending on the time that a trader intends to trade, this could be a problem.
Final Thoughts
Ultimately, Onlinemarketshare is a good choice for those who want a basic and relatively standard level of service. With a choice of asset classes and a variety of customer service options, it is unlikely that a trader will have a negative experience with this broker. However, it is important to be aware of the fact that the broker has some downsides – and to do some research before opening an account.
Broker Details
Onlinemarketshare a brand name, and the broker is in fact owned by a company called Share Tech Ltd. It is based in the Commonwealth of Dominica, where its registration number is 2020/IBC00013.
The broker carries a series of risk warnings on its website designed to help traders contextualise their trading decisions and remain aware of the risk levels involved. It specifies that assets such as precious metals and foreign exchange pairs might not be appropriate for every investor, especially given the leverage aspect of the broker's offer. It also advises customers to ensure that they educate themselves about the balance between the chance to earn money and the possibilities of losing it.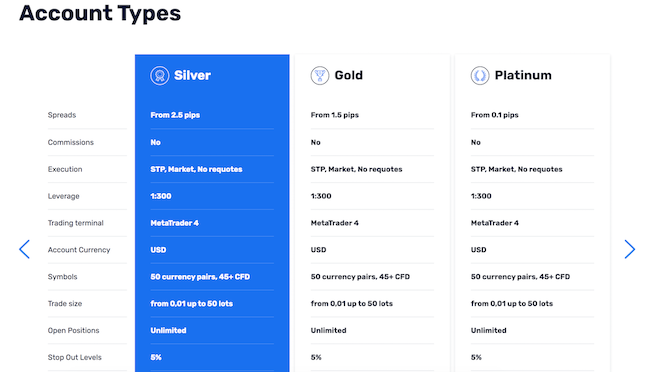 Contacts
There are a number of contact options available on the Onlinemarketshare website. Customers can get in touch directly via a phone number: +441758688512. There is also an email address available: [email protected]. Traders should note, however, that the stated email address contains what appears to be a typo – the main part of the URL of the broker's website is 'onlinemarket-share', while the main part of this email address has an additional 's' after 'market'.
In a convenient move, the broker also offers traders the chance to request a call back.
FAQs
What is the deposit process at Onlinemarketshare?
There are two different ways that a trader can make a deposit at Onlinemarketshare. The first is via a bank transfer, and the second is using a debit or credit card. Onlinemarketshare does not specify on its deposit information page exactly what card-based methods are allowed, though the logos of several major providers are included in the footer of the website. These include Mastercard, American Express and Visa.
In order to fund an account at Onlinemarketshare, traders are asked to click on the 'Deposit' function in the account dashboard. From there, they can go on to select the deposit option they need. They will need to add some extra information before the deposit is complete.
The deposit process is managed using end-to-end encryption, so traders can make deposits safely.
What is the withdrawal process?
The withdrawal process at Onlinemarketshare works in a similar way. Traders can use either bank transfers or credit and debit cards to make their withdrawals, just as is the case with deposits.
There is, however, another factor to consider for withdrawals – and that is timing. If the withdrawal request is made between 9am and 6pm, it will formally be processed during the same day. This timeframe is described as local time, and presumably, this is the time local to where the broker is based – the Commonwealth of Dominica. If the request is made following 6pm, or over a public holiday or a weekend, it will be processed the day afterwards.
Traders at Onlinemarketshare are advised that they are responsible for ensuring that their accounts have enough cash to cope with margin calls. It is also made clear by the broker that funds can only be transferred to a personal account.
Will I need to have my account verified?
Account verification is an important part of the trading process at Onlinemarketshare, and traders will need to comply with the process in order to be approved for trading.
It is important to note that the broker requires photographic evidence of certain documents in order to begin trading. These need to be sent via email, and include a driving licence, a residency permit, and a government-approved identification card such as a passport.
In addition to this basic identity check, Onlinemarketshare also insists that traders go through an address verification process. This is somewhat more complicated. One of the documents on the list is a bank statement, though Onlinemarketshare insists that this comes from the last three months' worth of your statements. It is also necessary to send over a utility bill. Again, this must have a date from the last three months on it.
It is not made clear whether all or some of these documents are required in order to proceed. Traders are, however, told that they can speak to the support team via email if they need to have any questions about the Onlinemarketshare identity verification process answered.
What are the different account types on offer at Onlinemarketshare?
Onlinemarketshare has a complex account type structure, though this ultimately benefits traders given that it provides a wider range of choice. As outlined above, each of the different account types comes with a different spread level, so traders can choose the option that works best for them in terms of fees and revenue.
Mostly, though, the accounts enjoy many similarities. The Bronze, Silver, Gold and Platinum accounts all offer identical execution policies. They all offer STP, which stands for straight-through processing and which signifies a fully electronic trading experience. None of the accounts offer requotes. The trading terminal, MetaTrader 4, is the same across the board. The currency that a trader can use for their account is the US dollar no matter what sort of account they have. In addition, there is no account-related limit on the number of open positions that a trader can hold.
What currency pairs does Onlinemarketshare offer?
Onlinemarketshare offers a wide range of different currency pairs, including both well-recognised major currencies as well as some less famous ones. Well-known pairs that are represented on the list include the Euro/US dollar pair and the British pound/US dollar pair. However, some less recognisable names – such as the South African rand and the Hungarian forint – are also represented.
What other asset classes does Onlinemarketshare offer to traders?
Onlinemarketshare provides 145 trading instruments altogether across its full range of asset classes, meaning that there is much more than foreign exchange to think about when trading with this broker. It has a strong range of indices. For example, it is possible for traders to trade the fortunes of some of the world's most famous stock exchanges, such as the NASDAQ and the NIKKEI.
Traders at Onlinemarketshare can also trade precious metals such as gold, while the energy markets – such as Brent oil – can also be traded here. The futures markets, including those focusing on commodities such as coffee and cocoa, are also on offer. Finally, shares in firms such as Tesla, Apple and Google can be traded here.
What documents does the broker publish?
Onlinemarketshare has an extensive documentation list on its website, and this covers a wide variety of information, including its anti-money laundering policy, its customer complaint form, and also a copy of its deposit declaration PDF. This is used by customers who need to provide further information about the source of any funds transferred to the broker's account.
Does Onlinemarketshare offer bonuses?
In its bonus agreement, Onlinemarketshare outlines how its bonus policy works. First of all, it's worth emphasising that not every customer will be able to secure a bonus from this company. A trader will need to make sure that they are older than 18 and have gone through the broker's parent company's compliance process. They will also have to ensure that they commit to the rest of the terms and conditions via email.
Traders should also note that their bonus cannot be withdrawn until a certain set of conditions (involving amounts traded) have been met. In essence, the bonus is best seen as an enhancement of a deposit in the first instance.
Does Onlinemarketshare have a risk-free trade option?
Risk-free trading is a promotional device used by Onlinemarketshare that traders can also take advantage of – provided, of course, that they meet the required terms and conditions. First of all, those using the risk-free trading offer will be required to make a deposit of between $2,000 and $10,000, so it is not for those seeking to dip their toe in the water.
Only the customer's first trade will be risk-free, and it will not be allowed if the trade is bigger than a single lot. As is the case with other promotional deals, the trader will need to be eligible and have gone through the compliance process before they can access this deal.
Is there a partnership programme at Onlinemarketshare?
There is a partnership programme at Onlinemarketshare, and there are lots of benefits for a marketer who pairs up with the firm. It works by asking partners to bring new business to Onlinemarketshare in return for commission.
These commissions are paid weekly, and are described by the broker as "handsome". The broker also makes the partnership promotion job easier by providing marketing tools that are designed to encourage people to sign up and try their hand at trading. By offering a control panel to marketers, the broker also helps customers to keep all of their relevant information in one place.
The partnership programme is designed to be open to everyone. However, the broker does specify that those who enjoy some sort of professional history in the sector – either in foreign exchange specifically or in a broader financial sense – may be at a particular advantage.