Expert's Viewpoint 
Our experts like to take a close look at the regulation, legal documentation, and published policies, as they are generally an indication of a reliable broker. In the EU, Trade360 is fully regulated and licensed by the Cyprus Securities and Exchange Commission (CySEC). The broker also operates within Australia, where it is regulated by the Australian Securities and Investments Commission (ASIC). Trade360 is also registered with the Financial Conduct Authority (FCA) in the UK and many other regulating bodies throughout the European Economic Area. To find the regulation's full details and check if this broker is registered with the regulating body in your country, take a look at the 'Regulation' page on its website. These authorities enforce safe practice regulations and standards for brokers and other financial and investment firms under their authority. Brokers that are registered with the regulating bodies should consistently adhere to those standards. If traders feel that the firm has acted outside of those standards, they can file a complaint with the regulating body.
Another important area to check is the brokerage's legal documentation for new and potential clients. Trade360 appears to meet all best practices in this area. The website's legal page includes details of its regulators, Investor Compensation Fund Policy, Anti-Money Laundering Policy, Terms and Conditions, Risk Disclosure, Privacy Policy, and Conflict of Interest Policy. It is always advisable to carefully review all legal documentation on a broker's website before opening an account to ensure that there is nothing that causes concern to you, given the investment you will be making and how you intend to use the broker's services. However, based on regulation and documentation, the expert's viewpoint is that Trade360 is generally a reputable broker and safe to use.

Broker Summary 
Trade360 has a variety of features that will appeal to traders at all levels, some of which we will discuss below. The broker offers a wide choice of retail accounts, aimed at everyone from the complete beginner to highly experienced and professional traders. It also offers an Islamic account, which is available on request. Trade360 clients can take advantage of the unique CrowdTrading platform, which provides traders with the ability to monitor trends and market events that may reflect or affect trading opportunities, and see how other traders react to them. The brokerage also offers access to Trading Central, which provides useful trading signals throughout the day to help traders adapt their trading activities to changing market conditions. Opening an account at Trade360 is quick, simple and free. For those new to CFD trading, there is an educational section available to all clients and market data analysis, in the form of the daily market report. Trade360 has a good number of tradeable instruments. It also has fixed spreads, zero commissions, and reasonable leverage, so the brokerage certainly has a lot to offer and is worth researching if you are an online CFD trader looking for a new broker.
Trade360 is a multi-asset CFD trading company based in Limassol, Cyrus. The broker was founded in 2012 and operates throughout the European Economic Area, and in Australia. It does not accept clients from the US. The company offers a wide range of tradeable assets, including forex, single stocks, indices, commodities, exchange-traded funds, and cryptocurrencies. All instruments are available to trade as CFDs. Trade360 offers six account types for retail traders, alongside an elective professional account, which is a big part of why this broker can attract traders at all levels.
The type of account you choose will depend on your experience and the amount of money you have available to invest. Brand-new traders may feel most comfortable with the Mini account, which requires a minimum deposit of just $250. The Standard account, which has much the same features, requires a minimum deposit of $1,000. The Gold account has a few more features, and the deposit needed is $5,000. The minimum deposit for the Platinum account is $10,000; for the Diamond account, it is $50,000; and for the VIP account, it is $100,000. These deposit amounts are in USD, and there are, of course, various perks and extra features included with the premium accounts. However, all accounts have access to the live CrowdTrading feed and Trading Signals, along with live chat support and access to educational resources and analysis.

Trade360 specialises in trading CFDs, also known as contracts for difference. CFD trading is a form of derivative trading that is highly popular in the EU and Australia. It allows traders to potentially profit by speculating on the price movements of underlying assets without ever actually owning the asset. If you are new to CFD trading, however, then it should be noted that this can be a risky form of trading, especially when using higher levels of leverage, so it is vital that you educate yourself well on the topic and continue to do so as you progress with your trading activities. The best CFD traders are well-informed, disciplined, and take time to learn about technical and fundamental analysis and things such as risk management. Trade360 has some high-quality educational pages available to all customers, but further training and self-education will be needed to be successful. The broker has won various awards, including Best Gold Trading Broker and Most Innovative Social Trading Technology at the 2020 European Global Business Awards.
Spreads & Leverage
Trade360 offers fixed spreads, but it states that spreads can occasionally vary during extreme trading conditions or non-trading hours. While this is uncommon, these spreads may be presented to you if you attempt to trade under these conditions. The spreads available for each instrument and currency pair are clearly displayed on the website and depend on the type of account you hold and the instrument or currency pair you are trading. Check carefully to ensure that you are looking at the spreads for the account you hold and the instrument or forex pair you intend to trade, as they are not always consistent. Spreads for the EUR/USD, for example, range from 2 on the Diamond account to 3 on the Standard and 4 on the Mini, but spreads for the GBP/USD range from 2 on the Diamond account to 5 on both the Standard and Mini.
The level of leverage offered will also depend on the instrument being traded. Retail accounts in the EU are limited by the European Securities and Markets Authority (ESMA) to a maximum of 1:30 on major currency pairs, and even less on other instruments. All retail accounts at Trade360 are subject to this restriction. The only way to access higher leverage is with a professional account, which is subject to an eligibility check. Traders eligible for a pro account may be able to access up to 1:400 on various instruments. For retail accounts, however, the maximum leverage available will be 1:30 on major currency pairs. Leverage on minor and exotic or emerging pairs will generally be lower, with leverage on the EUR/CZK, for example, set at just 1:4. Leverage on commodities and indices will vary but will not be higher than 1:20. On single stocks and ETFs, the maximum leverage of 1:5 can be expected.

Platform & Tools 
Trade360 offers a choice of trading platforms, including WebTrader, mobile apps, and MetaTrader 5. Mobile apps are available free for both iOS and Android devices. This versatile choice of platforms allows traders to trade from a mobile app, a web browser (on any device), or a desktop. As MetaTrader enthusiasts know, this award-winning platform has many advanced functions and features that make MT4 and MT5 popular choices with online traders worldwide. The MetaTrader platform is highly customisable and integrates well with many third-party tools and indicators. It also includes an impressive suite of integrated technical analysis tools and charts, back-testing facilities, and access to Expert Advisors for automated trading.
The broker also offers a unique CrowdTrading platform, allowing clients to easily monitor trends and market events and see how other online traders react to them. CrowdTrading software will enable traders to see new trends based on market events. It also measures the volume of buys and sells on a specific asset over a specified time period, identifies sudden surges in buys or sells, and notifies users of volatility changes. Trading Central is also available to all Trade360 clients, providing valuable Trading Signals for free, three times a day, across multiple asset classes, based on various technical indicators.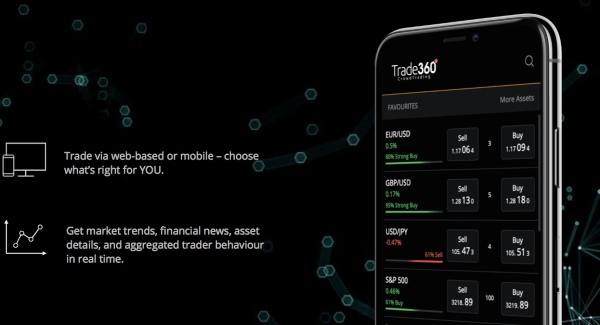 Commissions & Fees 
Trade360 does not charge commissions on retail accounts. As is always the case when there are no commissions, the broker's profits are taken from the spreads, which tend to be higher than at a commission-based brokerage. At this broker, the spreads are what you need to be paying attention to when calculating potential profits and losses and putting trading strategies in place. With Trade360, there seem to be very few extra 'hidden' fees or costs attached to trading. There are no broker-levied withdrawal and deposit fees, for example, though you should always be aware that fees may be levied by your bank or another payment processor on transfers made to and from your trading account. Hedging positions may incur an administration fee of 0.1%. Spreads are fixed but vary according to account type and instrument being traded. Fees can change at any time, often without notice, so it is vital to read the terms of any brokerage you are considering carefully and to check current fees and trading policies before you start trading. There may be further fees and trading costs not mentioned in this Trade360 broker review.
Education 
When it comes to education and training, online brokers differ greatly in what they can offer their clients. Trade360 has some useful but fairly basic educational resources available. Within the education section, each major asset class has its own page, explaining what that asset is and what to be aware of when trading it. There is also a page on CFD trading, answering common questions, and explaining the tools available to help you analyse popular CFD markets. Alongside this, there is a useful market analysis section. This produces a daily market report that provides a review of the market and suggests targets to aim for, taking into account various assets. There is also a useful Help section that answers a lot of the common questions that new clients may have about the broker, including issues such as which payment processors can be used and what sort of documentation is needed to open an account.
Customer Service 
Trade360 provides a few different customer support channels. Support is available by email, and there is also a dedicated phone line and a convenient web form, which can be found on the Contact page. There is also a live chat facility available to customers 24 hours a day, five days a week. All support channels (phone, email, contact form, and live chat) are freely available on the website and cater to potential and existing account holders. In addition to these customer support channels, there is a lot of information for both new and existing customers on the website. Be sure to check out the information available on the relevant webpages and in the Help section, as this may save you the trouble of getting in touch.
Final Thoughts
Trade360 is certainly a brokerage worth considering for CFD traders at all levels, especially if they want to trade a few different assets, all under one roof. The broker has a good selection of tradeable instruments, from forex to commodities. The website is well designed and easy to navigate, and the platforms available make this brokerage suitable for both desktop and mobile traders. The different account types also provide lots of options and room to grow for newer traders, who can start with a Mini account and upgrade as needed. The zero-commission trading model will undoubtedly appeal to many traders, though, as mentioned, this means that the spreads will be higher than at some other brokers. Finally, there is the security that comes from knowing that the company is fully licensed and regulated by CySEC. As most traders are aware, it is vital to exercise reasonable caution when trading online, and CFD trading carries its own specific set of risks. However, if you are a trader looking for a multi-asset, regulated European broker, where you can trade many instruments all under one roof, then Trade360 is a broker to consider.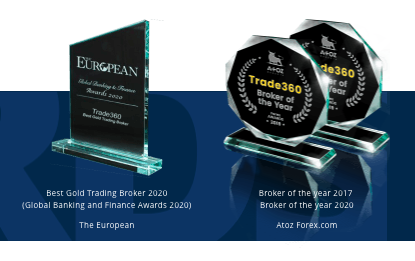 Contacts
Phone: +357 25030622
Email: [email protected]
Live chat & web form: https://www.trade360.com/company/contact/
FAQ
Is Trade360 trustworthy?
Trade360 is a registered, regulated, and licensed broker. The brokerage operates under the Cyprus Securities and Exchange Commission (CySEC) authority within the EU and the Australian Securities and Investments Commission (ASIC) in Australia. While you should always exercise caution when investing, there is no reason to believe that Trade360 is untrustworthy.
What instruments can I trade with Trade360?
With Trade360, you can trade a number of instruments like CFDs, including forex, single stocks, indices, and commodities.
Which forex pairs does Trade360 offer?
Trade360 offers around 50 forex pairs, including majors, minors, and exotics.
How do I open an account with Trade360?
Opening an account is simple, fast, and free. You need to register on the site and verify your account by providing some documentation. You can then fund your account and start trading.
How do I fund my Trade360 account?
You can transfer funds into your account using several payment methods, including a bank transfer, credit card, or debit card. You can also use various third-party payment processors, such as Skrill, Neteller, Trustly, and Worldpay. There are no broker-levied fees on deposits or withdrawals.
Is trading with Trade360 risky?
Trading CFDs with any broker is a high-risk activity. Trade360 includes the following risk disclosure: "CFDs are complex instruments and come with a high risk of losing money rapidly due to leverage. 69.7% of retail investor accounts lose money when trading CFDs with Trade360. You should consider whether you understand how CFDs work and whether you can afford to take the high risk of losing your money."
Is there a bonus for opening an account with Trade360?
No. It is against CySEC regulations for brokers to offer bonuses in return for new business.