Find out why we recommend Tickmill over Global TradeATF.
Expert's Viewpoint
The expert's viewpoint is that Global TradeATF is generally a reputable broker and safe to use. The brokerage is fully regulated and licenced by Bayline Trading Ltd (global.TradeATF.com), incorporated in the Belize IBC Number 136,374 and licensed by the International Financial Services Commission (IFSC) – authorization number IFSC/60/322/TS/19. Bayline Trading Ltd is registered at 5 Cork Street, Belize City, Belize. There are currently no outstanding complaints or legal disputes against it, according to the Broker Complaint Registry. Global TradeATF is not listed on ForexFraud.com, either as a trusted broker, or as a broker to avoid, which may simply mean that this broker has not been fully assessed by its experts yet. Its absence from the 'Brokers to Avoid' list, however, implies that there have been no negative reports made to ForexFraud.com about Global TradeATF. Generally speaking, the websites that have chosen to review Global TradeATF have given the broker good reviews and ratings. There are no negative Global TradeATF reviews posted on major broker review sites at this time. It should also be noted that all legal documents and disclosures are in place on the Global TradeATF website, and can be easily found in the footer of any page on the website. Documents found there include a risk disclosure, privacy policy, refund and withdrawal policy, safety of funds information, and a conflict of interest policy.
In this Global TradeATF review, our experts put a great deal of emphasis on legal documentation and published policies, as they are usually an indication of a trustworthy broker. Global TradeATF meets all the best practices in this area. Its safety of funds document specifies that all clients' funds are kept in segregated accounts, separate from the operating funds of Global TradeATF, which is an important step to protect client funds should the broker encounter financial difficulties. Global TradeATF also uses cutting edge technology to ensure the safety of funds, including sophisticated firewalls and Secure Sockets Layer (SSL) encryption, with all transactions moderated by Level 1 PCI compliance services, and trading servers based in SAS 70 certified server centres.
Now that you have an idea of how safe trading with Global TradeATF is, what does the broker have to offer? Why should you choose it over the many other CFD brokers out there?
Global TradeATF has a variety of features you might find attractive, some of which we'll delve into in great detail below. It offers three tiers of retail accounts, aimed at beginner, intermediate and advanced traders, as well as a new professional account, with a number of perks. It is also able to offer an Islamic account, which is not always the case with online brokers. Opening an account is extremely fast, simple, and completely free. You can register on the website, get your account set up, deposit your funds and start to trade. If you're new to CFD trading, or even if you're not, there is a wide choice of educational resources available for all customers to help you get started, or progress to the next level with your online trading. With a great choice of instruments, tight spreads, zero commissions, and generous leverage, there is no doubt that this broker will appeal to a wide range of CFD traders with a variety of interests. Read on as we explore this broker in our Global Trade ATF forex review.
Broker introduction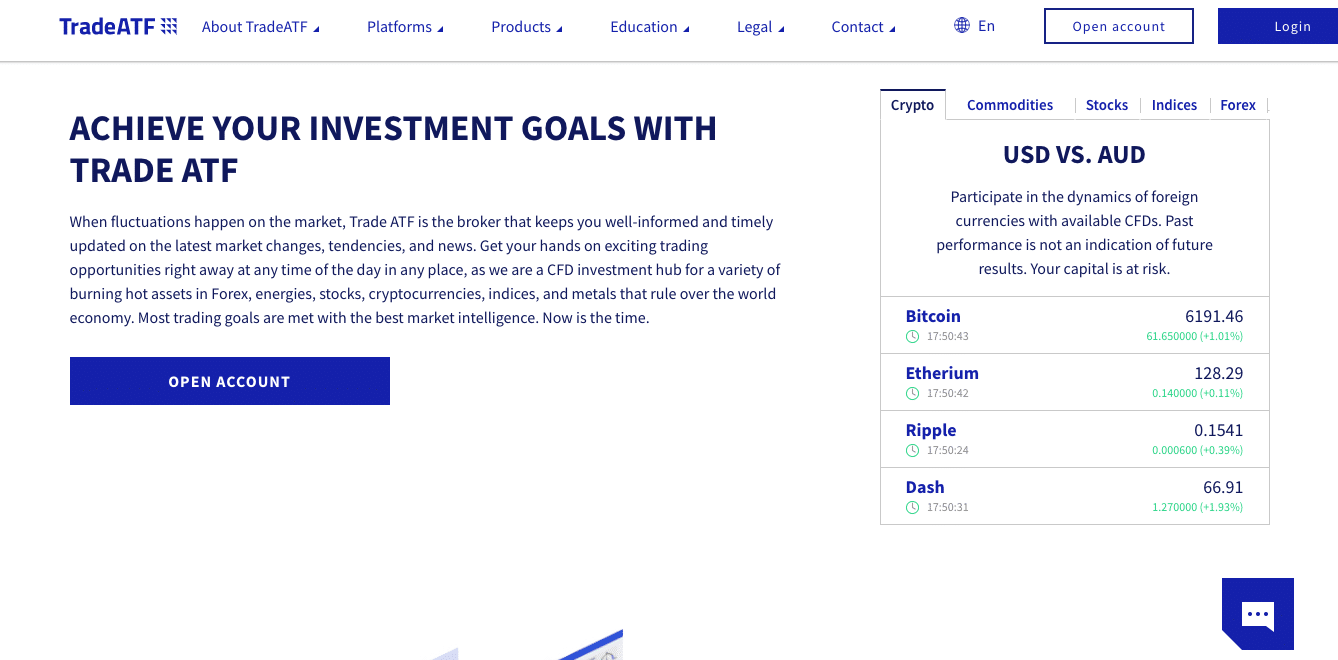 Global TradeATF is a relatively new CFD trading company, founded in 2019. While many online brokers find it hard to break into the already crowded marketplace, this broker has gone from strength to strength, quickly attracting customers from around the globe, and establishing itself as a strong, albeit fairly new, contender in the online trading space. The company's ability to offer a wide number and range of tradeable assets, along with tight spreads, and its zero-commission trading model, has unsurprisingly attracted many new traders, at all levels, from complete beginners to the more experienced, and even professional traders.
In fact, Global TradeATF now caters to serious traders via its professional trading account, which provides a number of interesting features, including even tighter spreads, high leverage, and a dedicated account manager. Retail traders also have a choice of three different account types, which is another reason this broker is attracting traders at all levels. Beginner traders can pick the Silver account, offering flexible spreads, moderate leverage, and access to over 700 assets. Intermediate traders can go for a Gold account, aimed at those who have been trading for a while. This option includes tighter spreads, opportunities for hedging, and a swap discount of 25%. Advanced traders have the option of a Platinum account, with tighter spreads, higher leverage, and a higher swap discount, allowing for some powerful and enviable trading conditions.
Global Trade ATF specialises in trading CFDs, also known as contracts for difference. CFD trading is a popular and exciting form of derivative trading, allowing you to profit on the price movements of underlying assets without ever actually owning the asset. However, it should always be remembered that CFD trading can be risky, especially when employing high levels of leverage, so it is vital to fully educate yourself on the topic before jumping in. One of the positive features of this broker is its extensive education and training portal, available to all customers, regardless of the level of account they hold. We'll cover that in more detail later on in this comprehensive Global TradeATF broker review.
Spreads & leverage
As already mentioned, spreads and leverage will depend on the type of account you open, but generally speaking, Global TradeATF offers some very narrow spreads, starting at just 0.03 pips, and attractive leverage. Silver account holders can generally access leverage of 1:30, which is more than adequate considering that beginner traders are well-advised to exercise caution when it comes to leverage — at least until they have a little more experience and discipline. Minimum spreads available with this account come in at a very respectable 0.07. The Gold account offers a generous jump to between 1:400 and 1:500 leverage, along with spreads starting at 0.05 pips. Platinum account holders also enjoy leverage of between 1:400 and 1:500, and the spreads get even tighter, starting at 0.03 pips. Customers with Platinum accounts also enjoy a 50% swap discount, along with the advantage of instant execution of orders.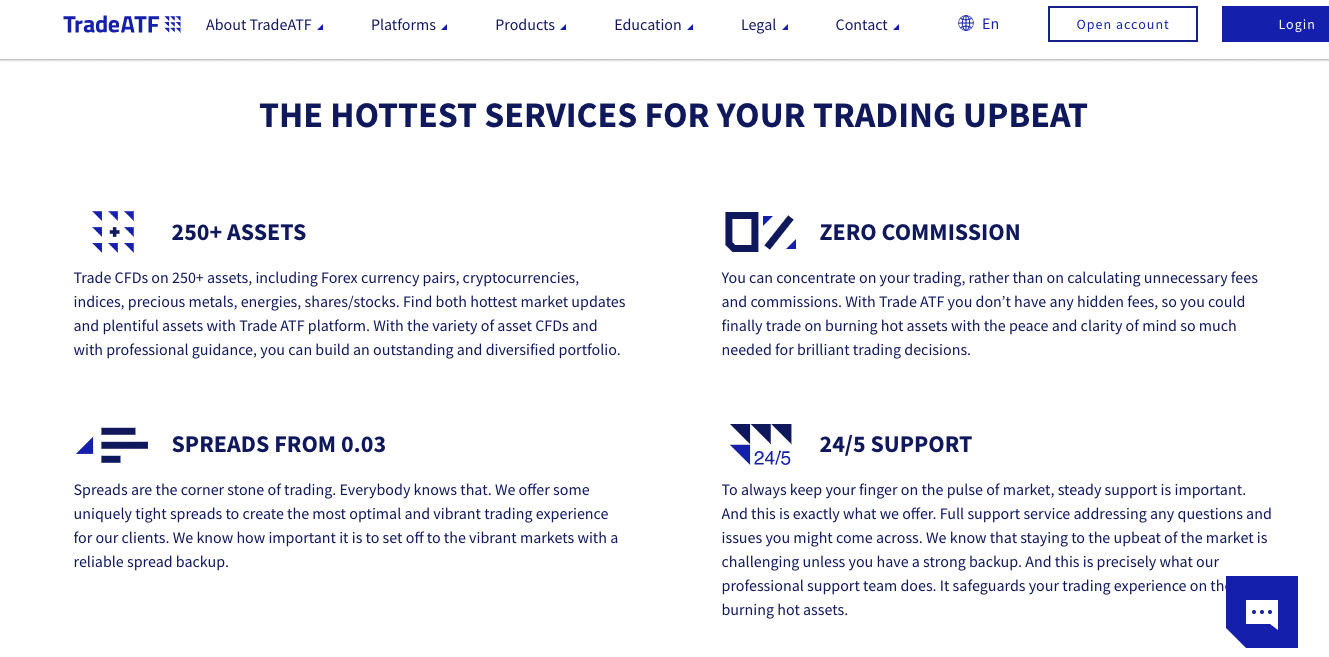 As is always the case, spreads will vary according to the instruments you are trading, so the above examples are the absolute minimum you can expect to be offered. Global TradeATF offers a wide range of assets and instruments, including forex, stocks, commodities, indices and cryptocurrencies, so you can expect a lot of variation in spreads. Plus, Global TradeATF offers floating spreads, as do most online brokers, so you are always advised to keep an eye on changing spreads and asset values, and be aware of possible slippage. Remember, that only the premium Platinum account comes with the advantage of instant order execution.
Platform & tools
Our Global TradeATF cryptocurrency review found that this broker offers a choice of trading platforms, and relies on the ever-popular MetaTrader 4 software. As MetaTrader enthusiasts know, this platform has a host of unique and advanced features, which is what secures its popularity with online traders worldwide. The MT4 platform includes an impressive variety of integrated technical indicators, advanced back testing facilities, access to expert advisors, and other useful trading tools. It also has the advantage of being highly customisable to suit your individual trading needs and requirements, and, of course, integrates particularly well with many third-party tools and indicators.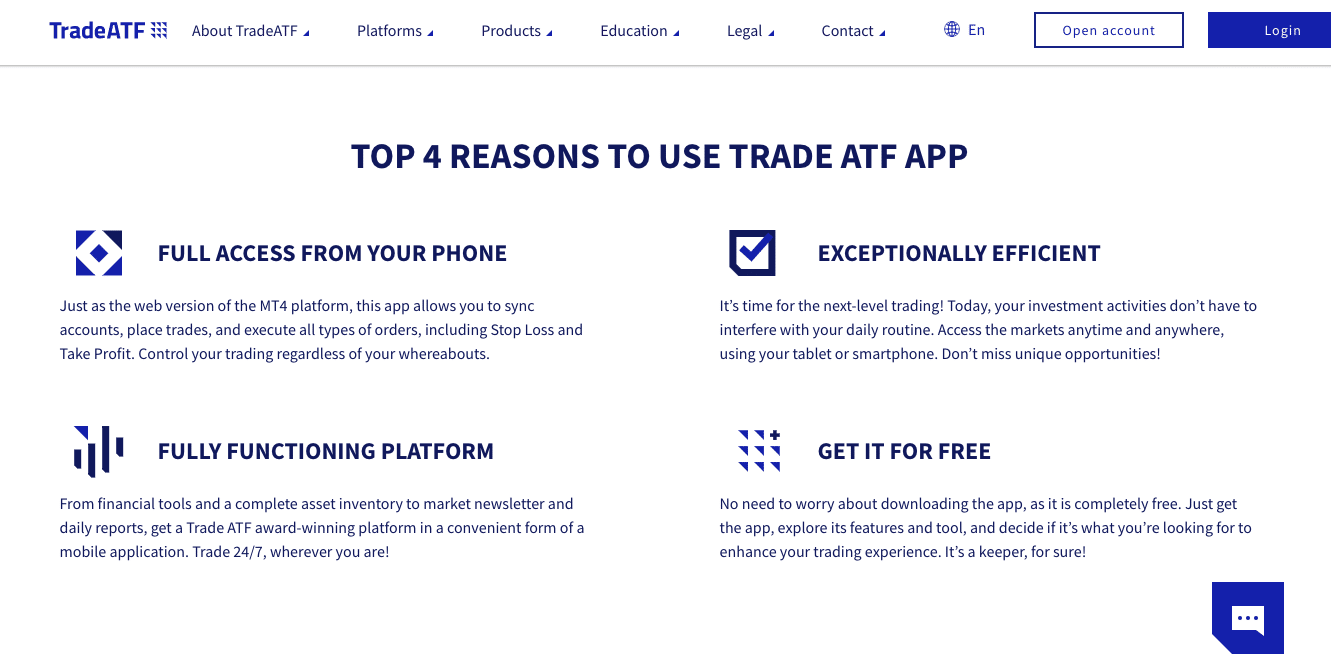 The broker also offers MT4 trading both as a desktop download, and as the browser-based Web Trader platform. It is entirely up to you which you prefer to use, and traders around the world often disagree on this. The Web Trader platform allows you to trade directly from your browser, from any compatible device, with the usual complete MT4 functionality, and full synchronisation, which should eliminate your exposure to trading delays and un-transmitted trades. Some traders, of course, prefer the desktop platform, and that will often depend on your lifestyle, how and when you trade and indeed your computer equipment itself, or other devices you trade from. Lastly, Global TradeATF offers a mobile trading platform in the form of the MT4 mobile trading app. This gives you full access to your trading tools and activities from your phone, or any mobile device, allowing you to sync accounts, place trades and execute any order on the go. The mobile app is free and available for both Android and iOS devices.
Commissions & fees
As already mentioned, Global TradeATF operates on a zero-commission model for retail accounts. As is always the case when there are no commissions, the broker's profits are taken from the spreads, but as we have already discussed, the spreads at Global TradeATF start at a very reasonable level on most instruments. Spreads will vary, of course, and will always depend on the type of account you hold, so you are advised to keep a close eye on changing spreads and always check current spreads via your chosen trading platform when placing trades.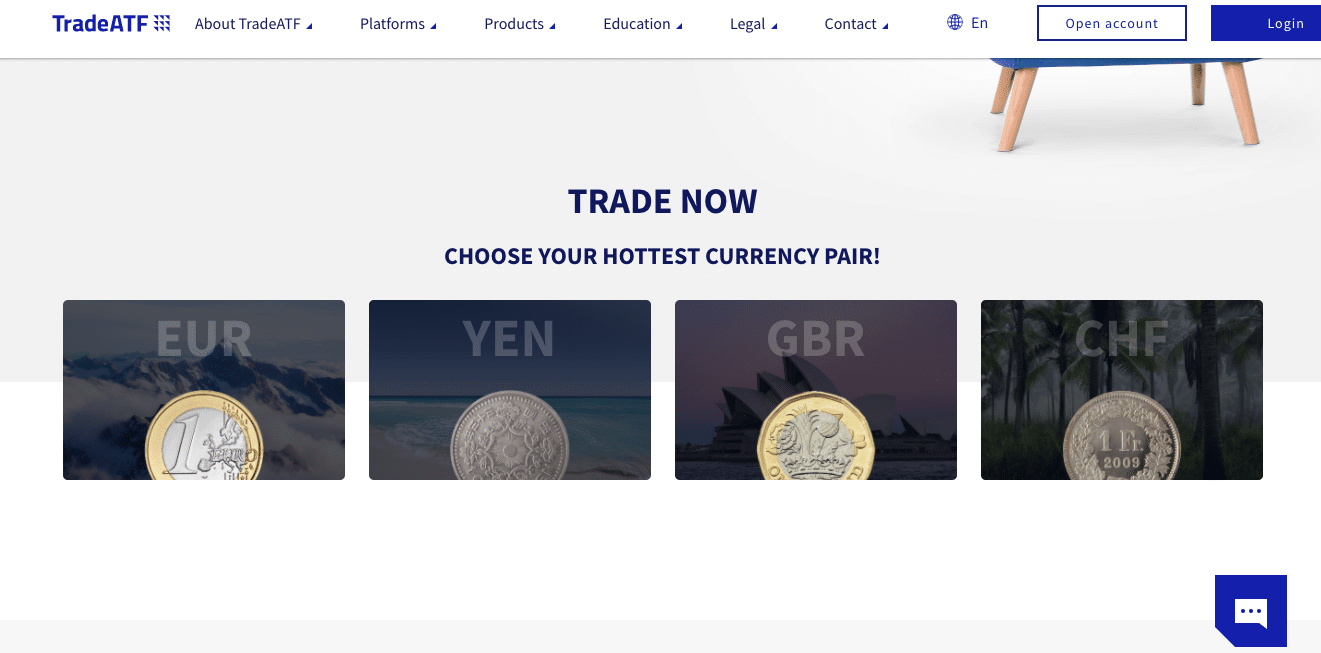 With Global TradeATF there seems to be very few extra hidden fees or costs attached to trading. Deposits and withdrawals do not generally incur a broker levied fee, although some banks, credit cards and third-party payment processors (such as Skrill or Neteller) may levy their own fees. We did note that the website clearly states that sometimes, "Additional fees may apply which will be communicated to you via the Company's contract" so it is your responsibility to read all contract terms and conditions carefully, as is always the case. We also advise you that with any broker, fees and charges are subject to change, sometimes without notice, so always check current fees and trading policies before you start trading.
Education
When it comes to education and training, online brokers differ greatly in what they are able to offer their clients. Global TradeATF, however, certainly does not disappoint in this area. As you would expect from a broker that offers a range of accounts aimed at traders with vastly different levels of experience, this company also provides a range of educational resources, aimed at brokers at all levels. There is a comprehensive video on-demand library that covers a range of topics, split into categories, with dedicated sections for beginners and advanced traders, as well as a whole section on the MetaTrader platform. Topics include 'distributing risk', 'currency pairs', 'calculating pips', and 'market analysis'. There are also in-depth online tutorials and courses, covering trading strategies and tools, the pros and cons of trading CFDs and stocks, and even quite specialised topics, such as social trading.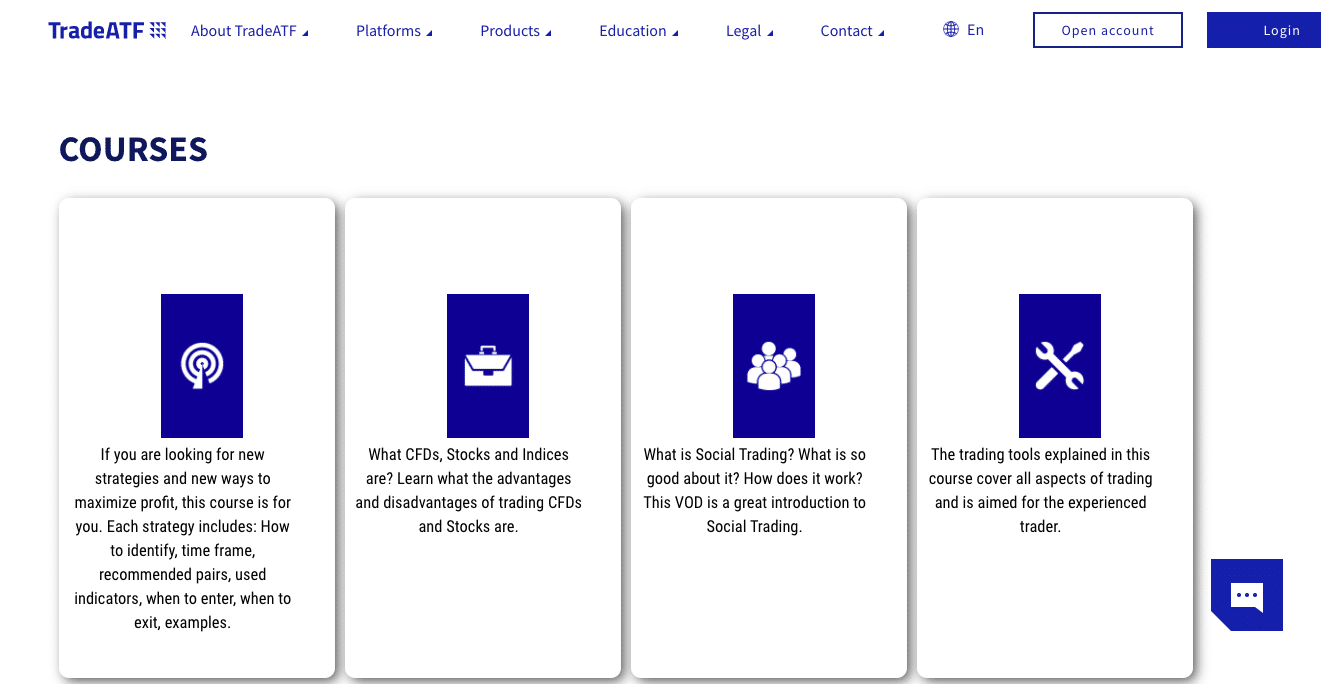 In addition to the online courses, tutorials and videos, there are also a number of informational ebooks, pitched at traders at different levels, and with different interests. They include topics such as why capital management is a must, different financial instruments explained, and an overview of fundamental analysis, technical analysis, chart types and Dow's theory. There is also a useful forex glossary, and a book on the importance of emotional intelligence while trading. There really does seem to be something for everyone in the Global TradeATF education section. To top things off, there is a full forex economic calendar and a report season calendar. You can find all these resources in a drop-down menu, under the education tab in the header of the website.
Customer service
When it comes to online brokers, customer service is a very important aspect of the overall customer experience for most people. Most traders work completely online, using a remote brokerage, often based in another country, so the need for fast and helpful responses when you contact customer support is paramount. Global TradeATF provides excellent customer service via a few different options. The website offers live chat and email, as well as a UK phone number, which can be contacted from 8:00am to 8:00pm from Monday to Friday. Email responses are relatively fast, but live chat is even faster and allows you to clarify details, ask follow-up questions and make sure your issue is resolved. Live chat support staff are friendly, professional and helpful, and seem dedicated to staying online with you until they are able to fulfil your request or resolve your issue. There is also a contact form that you can fill out on the website, and you will receive a fairly prompt response from a customer service professional by email. All support channels (phone, email, contact form, and live chat) are freely available via the website, for both potential and existing account holders. Professional account holders also get the advantage of a dedicated account manager who they can contact with any issues.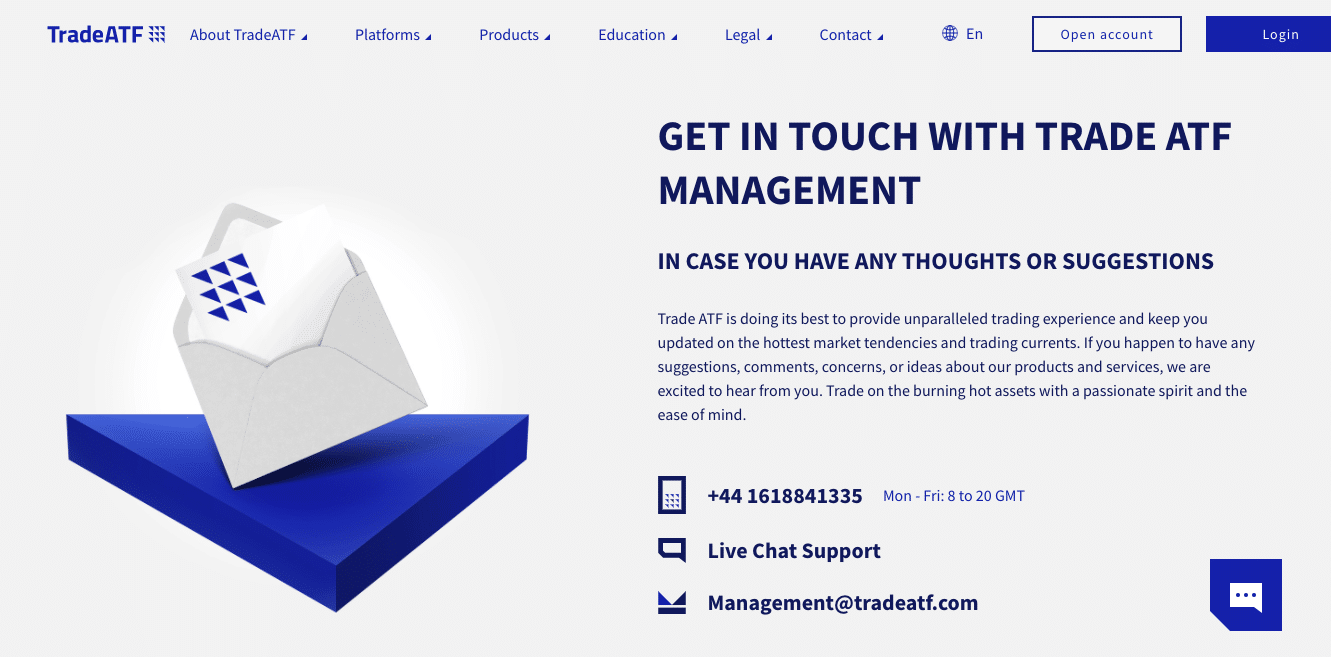 In addition to these customer support channels, there is a lot of information for both new and existing customers on the website. An extensive customer FAQ page covers all the commonly asked questions you would expect, although answers tend to be brief and somewhat lacking in detail. There is also a lot of information on the relevant pages of the site. This includes the huge education section, which provides customers with the support they might need to start trading, find their way around the MT4 trading platform and even learn about other important aspects of trading such as technical analysis.
Final thoughts
There is no doubt that Global TradeATF is a brokerage worth considering for new and experienced CFD traders. It offers an impressive range of instruments, from forex to commodities, and even cryptocurrencies, which are still not offered by a lot of multi-asset brokerages. In our Global TradeATF CFD review, we found that the broker's website is clean, uncluttered and well designed, making it easy to find your way around. Both the desktop platform and browser-based Web Trader have a variety of very appealing tools and features. The mobile app is very robust and intuitive, making trading on the go a highly viable option. We like the choice of accounts, which make this broker an interesting choice, whether you are a complete beginner or a more experienced trader ready to level up. The different accounts also provide room to grow for new traders, who can upgrade from the basic account to the premium accounts as they become more advanced. The new professional account is a nice touch and will no doubt attract more advanced full-time traders and financial professionals to the platform. Spreads are tight, starting from just 0.03 pips for some instruments, with the premium Platinum retail account.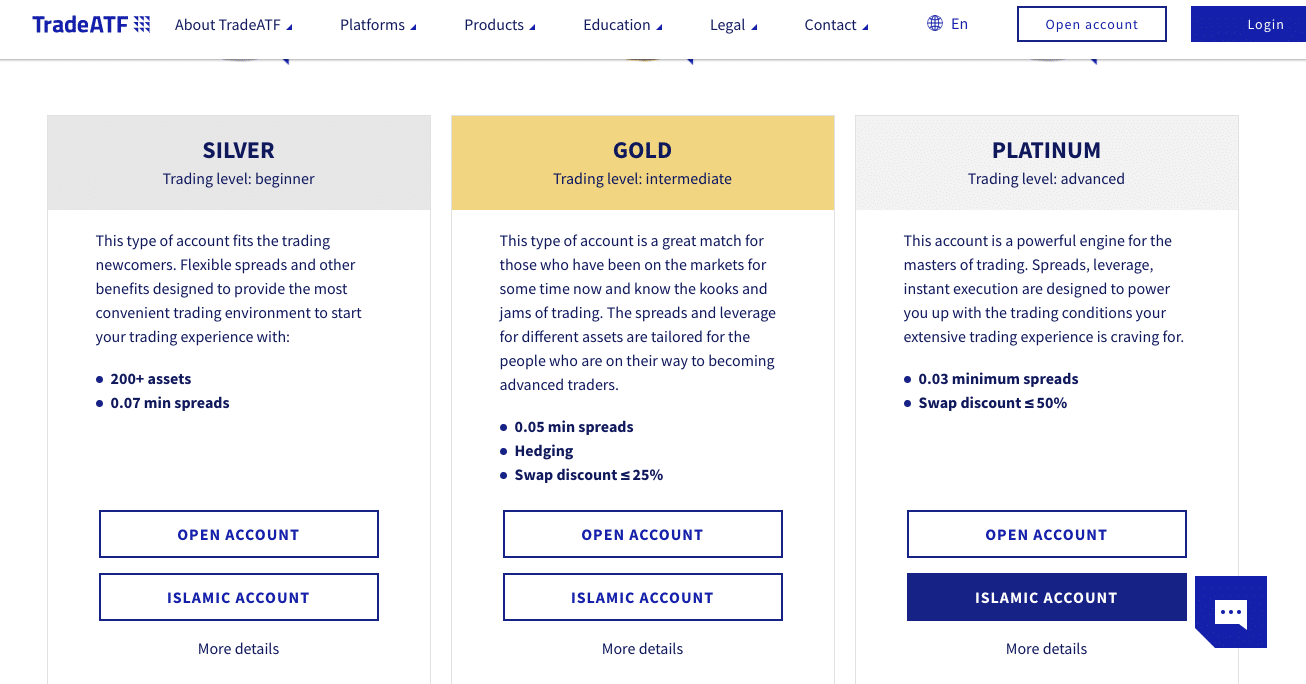 The leverage offered is also more than generous, which is what many traders have come to expect from major CFD brokers, and the zero-commission trading model will certainly appeal to many traders. MT4 traders will love the fact that their preferred and trusted platform is available, along with its many trading tools, technical indicators and other advanced features. Along with all this, there is the very extensive education and training section, a helpful FAQ, a choice of responsive customer service channels, and an easy registration process. Lastly, there is the security that comes from knowing that the company is fully licenced and Belize IFSC/60/322/TS19 regulated, and a member of the Investor Compensation Fund. As most traders are aware, there are always risks involved in online trading, and in particular with CFD trading, but if you are a trader looking for a solid, multi-asset broker, where you can trade many assets, all under one roof, then Global TradeATF may be a good option to consider.
FAQ
Is Global TradeATF trustworthy?
Global TradeATF is a registered, regulated and licensed broker. There are not currently any outstanding complaints or legal disputes against it and it is not on any public blacklists. Global TradeATF follows best practices in online trading. While you should always exercise caution when investing, there is no reason to believe that Global TradeATF is untrustworthy.
What instruments can I trade with Global TradeATF?
With Global TradeATF you can trade a number of instruments as CFDs, including forex, stocks, commodities, indices and cryptocurrencies.
How do I fund my Global TradeATF account?
You can transfer funds into your account using a number of payment methods, including Visa, Mastercard, Skrill, and Neteller. Simply sign in to your account and click on 'deposit funds' in the side menu.
Is trading with Global TradeATF risky?
Trading CFDs with any broker is a high-risk activity. Global TradeATF includes the following risk disclosure: CFDs are complex instruments and come with a high risk of losing money rapidly due to leverage. 82.88% of retail investor accounts lose money when trading CFDs with this provider. You should consider if you understand how CFDs work and if you can afford the great risk of losing your money.