In a market that is becoming increasingly crowded with new brokers bursting onto the scene, it can often be difficult to find online brokers that have substantial experience behind them.
This is not the case for TrendsTurbo, however – a broker that has just shy of a decade's worth of experience behind it. This is something that definitely comes across when you use the TrendsTurbo site, which provides a polished trading experience.
Founded with the goal of simplifying the trading process, TrendsTurbo is clearly a broker that puts the customer experience at the heart of everything it does. In terms of additional features, although the broker comes across as slightly 'no-frills' at times, this simplified approach to trading works in TrendTurbo's favour. Rather than drowning users in unnecessary innovation and features, TrendsTurbo focuses on what matters.
With this in mind, this stripped-down broker gets the basics right and executes them very well. While the trading conditions on offer are generally quite good, they only become really competitive at the higher account minimum thresholds. For this reason, this is a broker best suited to newer traders with a bit of experience under their belt, or intermediate traders with more cash to play with.
We were particularly impressed by the fee and commission free trading on offer, which helps to simplify the trading process and to make it significantly more transparent. Similarly, if you want to trade on leverage, TrendsTurbo is a good choice, with up to 1:400 leverage offered on the broker's Platinum account.
With all that said, TrendsTurbo provides a trading experience that focuses on doing the basics well. While this might not be the preferred approach for certain traders, if you are simply looking for a trustworthy broker to trade with on a more casual basis, TrendsTurbo could be just the broker for you.
Broker Summary
TrendsTurbo prides itself on offering a simple and straightforward trading experience. But how well does it live up to this promise?
You will be pleased to know that based on the extensive research carried out in writing this review of TrendsTurbo, we can confirm that the broker has put together a straightforward and easy to use trading platform, which is a great place for beginner traders to get their start.
Whether it's the transparent fee structure or the simplified sign-up process, this is clearly a broker that puts the customer first. Although lacking a few advanced features such as extensive social trading or cryptocurrencies, if you are looking for a CFD-focused trading experience, this is an easy choice to make.
We were particularly impressed by the wide range of CFDs you can trade, as well as the favourable trading conditions on offer. Although TrendsTurbo hasn't taken too many risks in putting this product together, what it does offer, it executes very well.
Broker Intro
Established just shy of a decade ago, TrendsTurbo is one of the established veterans of what is an industry increasingly dominated by new start-ups.
Despite being one of the older players in the market, TrendsTurbo has nevertheless managed to maintain its reputation over the years by continuing to deliver an excellent trading experience to its loyal client base.
Taking a client-focused approach is at the heart of everything TrendsTurbo does. The trading experience on offer is clearly built from the ground up with the customer in mind.
This includes an easy to use trading platform, a simplified sign-up process, and a transparent fee and commission structure that makes it easy to keep track of your trading portfolio. While TrendsTurbo lacks some of the newer and more advanced features of some of the other trading platforms out there, what it does do, it does it very well.
If you want to know a little bit more about the package TrendsTurbo has put together, keep reading this TrendsTurbo CFD review for the full rundown of what the broker has to offer!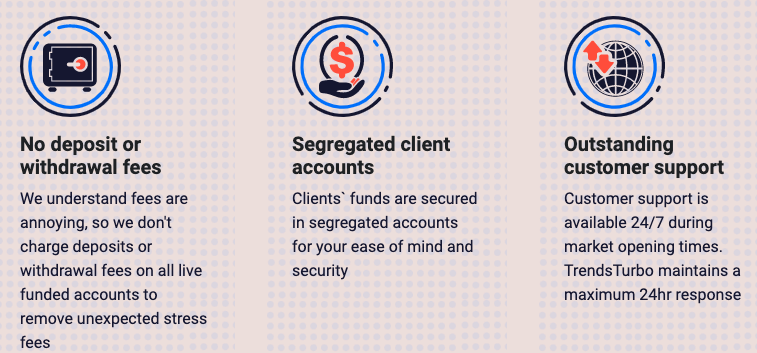 Spreads & Leverage
TrendsTurbo holds itself out as a broker that offers competitive trading conditions that give you access to live market rates. But having conducted the research for this TrendsTurbo broker review, how does the broker actually stack up against the competition?
Generally speaking, the trading conditions offered by TrendsTurbo are quite good. Ultimately, however, what trading conditions you can take advantage of will depend on what kind of account you have open with the broker. Each account type is designed to suit a specific type of trader.
As stated elsewhere in this TrendsTurbo review, the broker offers four main account types – Bronze, Silver, Gold, and Platinum.
The Bronze account is the basic, beginner account. While it has the lowest account thresholds – with a minimum account deposit requirement of just $250 – it also offers the least competitive odds. These run from 2.8 pips upwards on average.
The Silver account has a minimum account requirement of $2,000, and benefits from a slight reduction in the average spread offered to 2.5 pips.
The most competitive account types are Gold and Platinum, which will likely be where the majority of users fall. You can open a Gold trading account with a minimum investment of $10,000, which secures you average spreads of around 1.5 pips. While no means the most competitive odds we have come across over the course of researching this TrendsTurbo CFD review, it should suit the needs of most intermediate or casual traders.
In terms of what leverage the broker provides support for, this will similarly depend on what type of account you have. The basic Bronze account is capped at 1:100 leverage, with Silver and Gold at 1:200 and 1:300 respectively. The Platinum account offers the highest leverage at 1:400, although this requires a significant account deposit minimum at $50,000.
Platform & Tools
As with many of the other trading platforms out there these days, TrendsTurbo has opted to give users access to the MetaTrader 4 (MT4) trading platform.
Given that the MT4 platform is by far the most well-respected trading platform currently available, this seems like a relatively easy choice for TrendsTurbo to make. With a seemingly endless amount of customizability, the MT4 trading platform is perfect for both beginners and more experienced traders alike. If you are looking for a trading platform that is stable, easy to use and delivers all the performance you could hope for, MT4 is the perfect trading platform for you.
Support for MT4 comes in the terminal or desktop version, a full-featured web-trader, and a highly functional mobile trading app. This means that no matter what device you have at your disposal, you will be able to access your account and execute trades.
It should be noted, however, that TrendsTurbo does not provide access to the newer MetaTrader 5 trading platform, which is the update to MT4. Although the uptake of MT5 across the sector has been relatively slow so far – and in this sense, TrendsTurbo are not necessarily behind the curve – it is worth bearing in mind. TrendsTurbo has not yet announced if MT5 support will be included in a future release.
Commissions & Fees
One of the best aspects about trading with TrendsTurbo is that it offers a completely fee and commission free trading experience.
This applies across all account types, so regardless of whether you have a Bronze, Silver, Gold, or Platinum account you will be able to benefit from commission-free trading.
It should be noted, however, that this does mean that in certain cases the spreads you get offered on particular trades may be slightly higher to accommodate for the lack of fees. As such, this might not suit every trader. Professional traders who trade more frequently and in higher volumes, for example, might prefer to pay an upfront fee. For most casual and intermediate traders, however, this model is useful as you will generally be making fewer trades.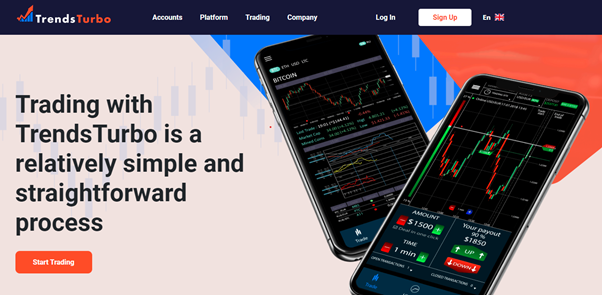 Additionally, TrendsTurbo does not charge any other fees or charges on deposits or withdrawals. Overall, TrendsTurbo definitely offers value for money when it comes to trading. We were also particularly impressed by how open and transparent TrendsTurbo was about its fee structure, with all of the information on fees and commissions readily available through the website.
Education
TrendsTurbo offers various educational resources for traders who are signed up for an account.
This mainly revolves around various news and market updates resources, which allow you to keep up to date with all the latest market movements. These are a great resource and allow you to adjust your trading strategies as the trading day progresses.
Additionally, TrendsTurbo has also put together a comprehensive MetaTrader 4 guide, which is the perfect resource for the newer trader just getting to grips with the MT4 trading platform for the first time.
In writing this TrendsTurbo forex review, although the educational resources are not quite as feature-rich as some of the other platforms we have looked at, they should suit the needs of most beginner traders looking for a bit of extra help getting started. Additionally, TrendsTurbo has also indicated that education is an area it is constantly looking to improve, so we would expect some big updates in the near future.
Customer Service
As anyone who has ever traded with an online broker before knows all too well, one of the most important aspects of any online broker is the level of customer service and support they have on offer. In the unlikely event that you run into an issue when trading, you want to know that you can get in contact with a knowledgeable and responsive customer support team who will be able to offer effective solutions to whatever issue you are facing.
We are happy to report that this is certainly true of the customer support team at TrendsTurbo who are, in our experience, both responsive and knowledgeable.
Customer support is offered on a 24-hour basis during trading days, and the customer service team can be contacted using email, direct phone, or via post. Additionally, there is also an email query box embedded in the website, which helps to make the process that little bit more efficient.
One feature we would like to see added in the future is a live chat box embedded on the website. This would allow for direct contact with the customer support team in an even more responsive manner.

Final Thoughts
Overall, we were impressed by the package that TrendsTurbo has put together. Based on the research we have conducted for this TrendsTurbo CFD review, we would feel more than comfortable recommending this platform to most intermediate traders.
Although TrendsTurbo could do with a few improvements – particularly in the education and learning resources it makes available – we would nevertheless recommend the broker for the favourable trading conditions on offer and the experience it has in the sector.
While lacking some of the more advanced features that we have seen on other platforms, TrendsTurbo does provide a simple, straightforward trading experience that is easy to recommend. We were particularly impressed by the large range of CFDs offered, which is notably more extensive than other similarly sized platforms. This means that you are given plenty of scope to diversify your trading portfolio.
Broker Details
TrendsTurbo is owned and operated by KMA Group LLC, which are a company registered in St. Vincent and the Grenadines.
This means that TrendsTurbo similarly falls under the licensing authority of the St. Vincent and the Grenadines financial services regulator, as well as the local law of St. Vincent and the Grenadines more generally. We were unable to find any evidence of any other regulator that TrendsTurbo falls under, nor is it clear that this is something it is actively seeking out.
TrendsTurbo is generally quite good about making all of the important financial and regulatory information accessible via its website. This can all be accessed via the 'Company' menu tab.
Additionally, TrendsTurbo also has the appropriate anti-money laundering (AML) and know-your-customer (KYC) procedures in place. This is a positive indication, as these are legal requirements placed on all financial services firms.
Contacts
To access all of the various contact details for TrendsTurbo, simply head over to the 'Contact Info' section of the website, which sets out the various communication channels.
You can get in contact with TrendsTurbo via email, phone, or by post.
Email: support@trends-trbo.com
Phone: +447441426892
Address: First Floor, First St Vincent Bank Ltd Building, James Street, Kingstown, St. Vincent and the Grenadines
FAQ
Does TrendsTurbo charge commission fees?
TrendsTurbo does not charge any fees or commissions on trades, although the spreads are slightly higher as a result. Additionally, no fees are charged on deposits or withdrawals.
What trading platform does TrendsTurbo use?
Currently, TrendsTurbo provides users with access to the MetaTrader 4 (MT4) trading platform. This includes both the desktop version of MT4, as well as the mobile trader and web-based MT4 platform. The MT4 platform is by far the most popular trading platform out there.
Does TrendsTurbo offer different account types?
TrendsTurbo offers four different account types, each of which is designed for a specific type of trader. The account types include Bronze, Silver, Gold, and Platinum. The platinum account-type offers the most value, although has the highest minimum account requirements.
Is TrendsTurbo good for new traders?
Generally speaking, TrendsTurbo is a good trading platform to get started with if you are a new trader. It is easy to use, offers decent trading conditions and has a relatively simple sign-up process.
Where are TrendsTurbo based?
TrendsTurbo is currently headquartered in St. Vincent and the Grenadines, although it accepts clients from all over the world.
Does TrendsTurbo support mobile apps?
TrendsTurbo provides full support for mobile trading on the go. You can get started mobile trading by downloading the MetaTrader4 (MT4) trading app and signing into your account.